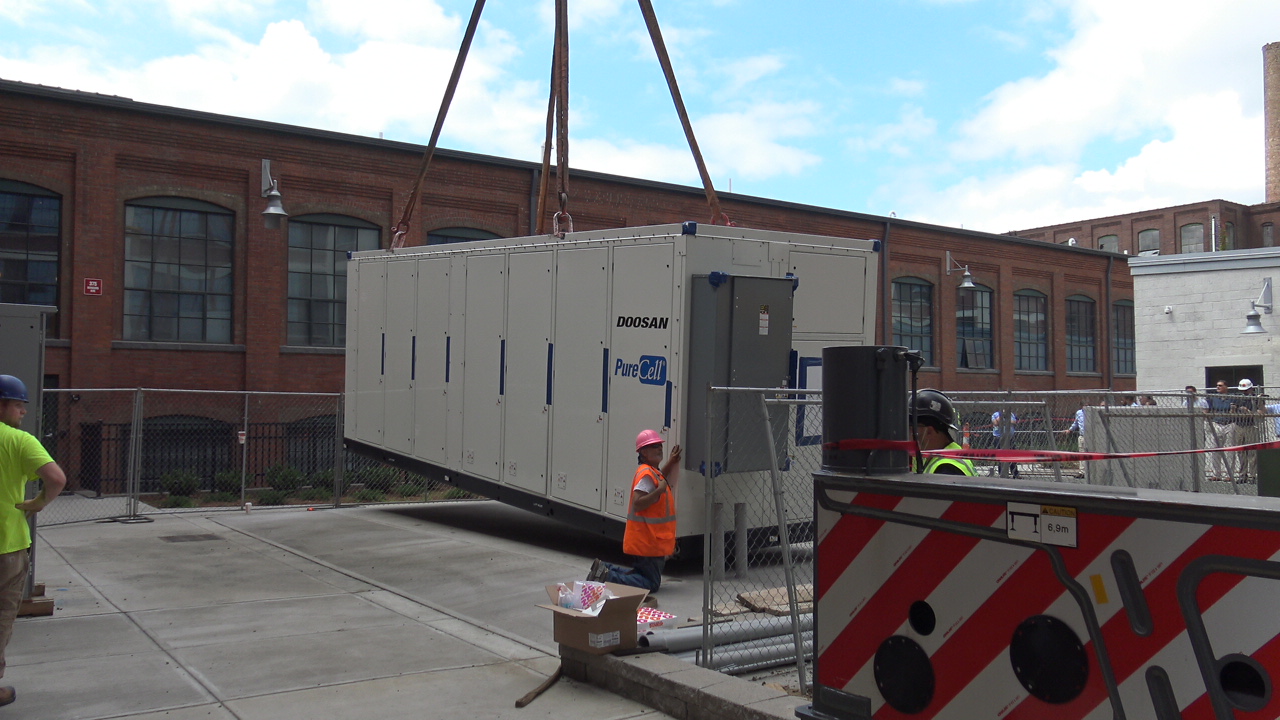 A city brownfield project in the West End that includes apartments, a charter school and housing for tutors in support of students and teachers has added a 440kw fuel cell at the Cherry Street Lofts property.
News release:
A 440kw fuel cell was installed earlier today at the Cherry Street Lofts property located at the corner of Cherry and Howard streets in Bridgeport. Daniel Donovan of NuPower stated, "It's great to witness the installation of this 60,000-pound fuel cell. It is a major milestone for our project. I want to thank all the team members, especially our state and local leaders, for making this possible."

State Representative Antonio Felipe added, "This is a huge step forward for the residents of Cherry Street and the 130th district. It will make our neighborhood more resilient, help improve the environment, and lower utility costs. The project also helps Bridgeport continue to be a leader in providing clean, renewable energy."

The Cherry Street Lofts adaptive reuse project is transforming Bridgeport's West End by converting old industrial buildings into new apartments, a school, and tutor housing. This exciting project will provide Class 1 renewable power to its tenants using its own on-site Doosan America fuel cell. The developers are thankful to both our city and state government officials for their continued assistance in moving this development project forward. Nu Power further wants to thank United Illuminating, Capital For Change, the Public Utility and Regulatory Authority (PURA), and all the state agencies that participated in the fuel cell approval process and making this project possible.

With the installation of the fuel cell, the housing and school will utilize on-site baseload renewable energy. Additionally, tenants will have the added reliability of the existing UI distribution system as a backup for peak demand periods. Nu Power will sell the electric power to residents and use the fuel cell's waste heat to provide domestic hot water and space heating to the school, all at discounted rates.

Co-developers of the Cherry Street Lofts Gary Flocco and Geof Ravenstine said, "We are so excited to bring this fuel cell to Cherry Street. Our residents and the charter school can now reap the benefits of lower fuel and heating costs. This fuel cell will provide enormous efficiency taking our property off the grid and providing discounted power for our 157 apartments and 725-student charter school."

Officials on-hand for the ceremony and installation included Mayor Joe Ganim, Bridgeport City Council members, and Representatives Antonio Felipe, Joseph Gresko, Jack Hennessy, and Chris Rosario.

Additional background on the Cherry Street Lofts project: State brownfield loan funds were used for predevelopment site work related to the removal of hazardous conditions including remediation, abatement, and demolition. The property, a three and a half-acre parcel located at 375 Howard Avenue in Bridgeport, has been occupied by multiple industrial operations that have involved the extensive use of oils, solvents, acids, and metals since the late-1800s and early-1900s late. The first phase of the project includes 157 residential units and a 65,000 sq ft new home for Great Oaks Charter School and 17 residential units to house the tutors, who support the school's teachers and students. The Great Oaks School was delivered last August for the 2019 fall semester and the tutor housing was delivered December of 2019.

In August of 2018, 29 townhouse units were rented and the balance of the 128 units have begun to be occupied in April of this year and will be fully occupied by late July. Rentals have been brisk, and there is a waiting list for the next phase of the project, which is the Hancock Avenue side of the block. NuPower is excited to take delivery on the fuel cell on Monday, which culminates the hard work by all team members in achieving this milestone. NuPower anticipates that the fuel cell and the heating system will begin commercial operation by mid-August.

The property's developers Gary Flocco and Geof Ravenstine partnered with NuPower LLC's Daniel Donovan and Scott Guilmartin to form NuPower Cherry Street FC LC (NuPower) to finance and execute the new clean energy project.