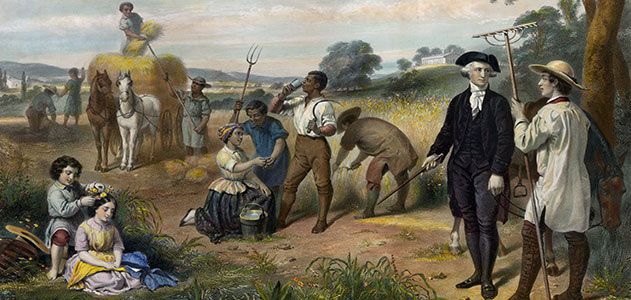 George Washington, shown here in an 1853 lithograph, oversees his slaves at Mount Vernon. (The Granger Collection, NYC)
George Washington enslaved people. So did Thomas Jefferson. James Madison too. You can pick apart just about anyone's life and discover disquieting things. Tear down those Columbus monuments, some demand. Rip down those confederate monuments.
We salute presidents with holidays. We celebrate founding fathers for the glory and bravery and thoughtfulness. Some enslaved people.
White out the holidays? Erase their memories? Powerwash history? Or place it into redeemable context?
Should Washington and Jefferson be scrubbed? Where does it end?
From Stephen Ambrose, Smithsonian Magazine:
Americans in great numbers are rediscovering their founding fathers in such best-selling books as Joseph Ellis' Founding Brothers, David McCullough's John Adams and my own Undaunted Courage, about Lewis and Clark. There are others who believe that some of these men are unworthy of our attention because they owned slaves, Washington, Jefferson, Clark among them, but not Adams. They failed to rise above their time and place, though Washington (but not Jefferson) freed his slaves. But history abounds with ironies. These men, the founding fathers and brothers, established a system of government that, after much struggle, and the terrible violence of the Civil War, and the civil rights movement led by black Americans, did lead to legal freedom for all Americans and movement toward equality.

Let's begin with Thomas Jefferson, because it is he who wrote the words that inspired subsequent generations to make the heroic sacrifices that transformed the words "All men are created equal" into reality.

In 1996 I was a visiting professor at the University of Wisconsin. The History Club there asked me to participate in a panel discussion on "Political Correctness and the University." The professor seated next to me taught American political thought. I remarked to her that when I began teaching I had required students to read five or six books each semester, but I had cut that back to three or four or else the students would drop my course. She said she had the same problem. She had dropped Thomas Jefferson's writings from the required reading list.

"You are in Madison, being paid by the citizens of Wisconsin to teach their children American political thought, and you leave out Tom Jefferson?"

"Yes," she replied. "He was a slaveholder." More than half the large audience applauded.

Jefferson owned slaves. He did not believe that all were created equal. He was a racist, incapable of rising above the thought of his time and place, and willing to profit from slave labor.
Full story here.