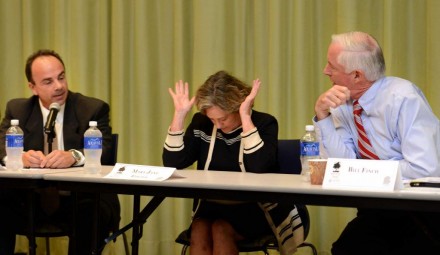 In a letter to supporters on Monday, Mary-Jane Foster decided against placing her name on the ballot as a petitioning mayoral candidate in November. Foster finished a distant third in last week's Democratic primary won by Joe Ganim. Foster issued the letter prior to the news that Mayor Bill Finch may not have a November ballot spot. Foster, however, has not submitted her official withdrawal from the race to elections officials. She is still technically a candidate.

Letter from Foster:
We are blessed to live in in this great city of Bridgeport and to love it the way we do. It is the reason I chose to run for mayor. I love this city. I know you do, too. This city has given me opportunity after opportunity. It has taught me how to truly love and serve. That is another reason why I ran for mayor.

I am extremely proud of the run I made. I ran because I believe in truth, integrity and real choice for an honest change in the city. I lost. I couldn't be sorrier because I believe Bridgeport deserves better. I will not be in the race in November. I am officially withdrawing from the race and I will not endorse another candidate.

Bridgeport is 16 square miles of pure heart. Those who malign this city do not know it. We're gritty, we're fierce and we're resilient. I don't know who the next mayor of Bridgeport will be but I can tell you, we've survived plenty and we will again if need be. Over the next four years I will not have the opportunity to serve Bridgeport as its Mayor. However, I know from my years serving Bridgeport as a protector of abused women and families, as a businesswoman creating jobs and opportunities for others and as an education advocate that there are many ways for one to serve the city she loves. Hard-working Bridgeport families do it every day, too often with too little help from City Hall. I will continue to look for ways to stand with and champion Bridgeport's families because they deserve better. I will do what I have done for 25 years. I will continue in my community service, I will do whatever I can to advance the cause of Bridgeport and I will be eternally grateful for the opportunity to do it.

Thank you for your support. Thank you for loving Bridgeport as I do. Thank you for standing for integrity and competence. Bridgeport deserves an honest choice. Bridgeport deserves better. Let's make sure, that together, that happens.
Statement from Finch:
"I want to thank Mary-Jane Foster for her contributions to the community, and to the dialogue in this campaign regarding our city and its future. She's a strong advocate and leader, having spent decades in different high-profile leadership positions, all focused on making our city a better place to live, work, and raise a family.

"I look forward to working with Mary-Jane Foster, and Bridgeporters in every neighborhood, as we continue investing in the future. By creating jobs, growing our tax base, cracking down on gun violence, and giving more kids access to pre-k, we're truly building a city that works for everyone."
Statement from Joe Ganim:
"I wish Mary-Jane the best of luck, and look forward to working with her in the future. Issues wise, Mary-Jane and I were on the same page in many ways. We worked hard. We ran a clean campaign, and we listened. Mary-Jane ran a very issues-oriented campaign and I hope her supporters look at my platform, which also focuses strongly on good, open, transparent government."