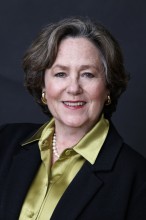 Mary-Jane Foster is scheduled to formally declare her Democratic candidacy for mayor Wednesday, 1 p.m. at the Holiday Inn, Main Street downtown, followed by a meet and greet 5 p.m. at the Metric Bar & Grill, 39 Cannon Street, located behind the Fairfield County Courthouse downtown. The public is invited to both events.

Foster, co-founder of the Bridgeport Bluefish and an executive at the University of Bridgeport, announced last week that she has raised more than $50,000 between an exploratory committee and recently formed candidate committee. That's a good start but she'll need a lot more. For her to be successful she must do so outside the Democratic party apparatus most of which supports Mayor Bill Finch who has amassed a mighty war chest for his reelection effort. A Democratic primary will take place Sept. 13.
John Gomes, former Finch deputy chief administrative officer and Charlie Coviello, three-time mayoral candidate, are also in the race. Former Mayor Joe Ganim, who served from Nov. 1991 to April 2003, has been positioning like he wants his old job back that he was forced to resign following his federal corruption conviction. Will he get in the game?