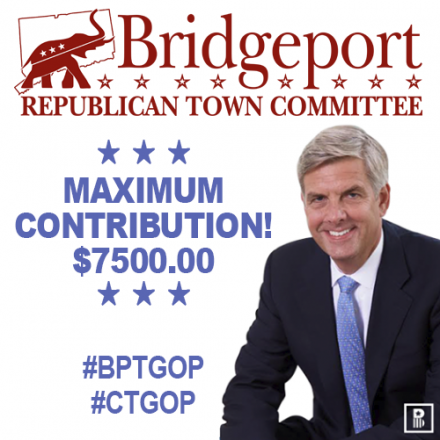 Bang the bongos. Toot the trumpets. Grind the guitars. The cash-strapped Bridgeport Republican Town Committee has donated $7,500 to the gubernatorial campaign of Bob Stefanowski tucked in a battle with Democratic standard bearer Ned Lamont. Bridgeport resident John Slater, vice chairman of the Connecticut Republican Party, issued a call to action in an eblast urging his Republican brothers and sisters to max out to Stefanowski's campaign. The local GOP is not exactly draped in dough, according to its latest campaign finance report, but where else would it bother to make this kind of investment considering local candidates are outnumbered 10 to 1 in city registration. Still, if you're a local Republican candidate you might be saying, "What about Bob? What about us!"

Slater's price tag is a distant plea from the Oct. 30 Bridgeport RTC fundraiser offering hot dogs, hamburgers, beer and wine for a $50 vig at Port 5 in Black Rock.
From Slater:
My Fellow Republicans,
I am writing to you tonight on behalf of The Bridgeport Republican Party in regards to the upcoming Governors Election … Now I know what you are thinking, "They must have found the absentee ballots …" … Not quite.
Earlier tonight, The Bridgeport RTC gave a "Maximum Legal Contribution from a Town Committee to a candidate running for Governor." We donated $7,500 to the next Governor of The State of Connecticut, Bob Stefanowski.

Bob is committed to Cutting Taxes and I encourage you to read his plan www.bobforgovernor.com/issues/.

The City of Bridgeport is often blamed for the results of the 2014 Governor's race and that is why The Bridgeport Republican Party decided to put its money where its mouth is and make the Maximum Legal Contribution. I am asking you to do the same. If you happen to be a member of the State Central Committee please speak to your Treasurer and Chairman about contributing as much as your committee can. If you are a member of your local Republican Town Committee, speak to your Treasurer and Chairman about contributing as much as your committee can. And if you are a fed up, concerned taxpayer … Contribute as much as YOU PERSONALLY can.
Bob Stefanowski is the BEST choice to SAVE CONNECTICUT!

DONATE NOW secure.anedot.com/bobforgovernor/donate

OUR TIME IS NOW! IF NOT NOW THEN WHEN?