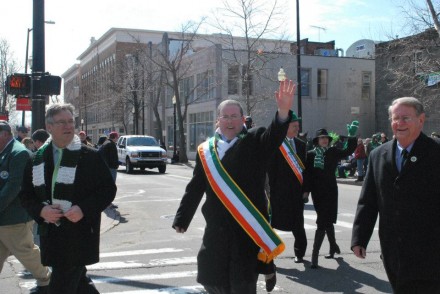 You can spend all your time making love. You can spend all your love making time. In city politics, it cuts both ways. Break up, get back together. Break up, get back together. Break up, get back together. Sometimes, just like St. Valentine, it's off with your head (politically speaking anyway). Is there a lot of love in city Democratic politics this Valentine's Day? Depends. Political relationships are developing as we segue into this year's City Council and Board of Education cycle.
A key area to watch is the East End where former City Councilman, state rep and state senator Ernie Newton is "seriously considering" a run for his old council seat in the 139th District. Every other year it's been a rite of passage for the council's longest-serving member James Holloway to declare he's done, only to reverse himself for another two-year term. Holloway won his council seat in 1991, during the Joe Ganim 1 era, for what will be at least a 26-year run on the legislative body. It started with Ganim as mayor, then John Fabrizi, over to Bill Finch and now Ganim again.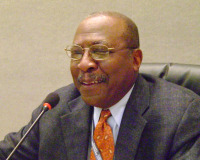 For the most part Newton and Holloway have gotten along, but Newton has not lost his appetite for city politics despite losing a close State Senate primary battle to Andres Ayala in 2012, then a primary loss to Andre Baker for State House in 2014. A key broker in Newton's resolve is East End District Leader Ralph Ford. Holloway wants to go out on his own, without being pushed. But could other candidates emerge? Eneida Martinez is the other council member representing the 139th District.
As a young city music teacher, Newton won a seat on the council in 1981, then was elected the first black City Council president prior to winning a seat in the state legislature.
All 20 seats for council and six school board positions are on the line. One big question is City Council President Tom McCarthy, this years St. Patrick's Day grand marshal. Will he seek reelection to his North End council seat? If so, will he have a challenger?
School board member Maria Pereira, elected to a four-year term in 2015, is interviewing potential candidates in support of citywide school board seats and council candidates in her home turf in the Upper East Side 138th District where she serves as leader. She wants to take out the incumbent council members she supported in 2015, Anthony Paoletto and Nessah Smith, with whom she has had a falling-out. There's not a lot of love there on either side of the fence.
Former State House member Bob Keeley is making noise about building coalitions to forge council primaries across the city. Will he?
In 2013, the last off-cycle municipal election, all endorsed Democrats for school board and council were thwarted in primaries. Looks like a number of primaries are on the horizon. Can't ya feel the love?