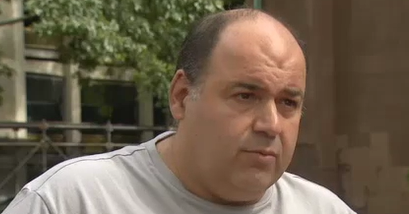 Staff and commissioners with the state agency overseeing election complaints thought they had a "consent agreement" with Chris Taylor to resolve a dispute that he had voted in Bridgeport and served on the Board of Education while a resident of Fairfield, in violation of state law. For this egregious act he had supposedly agreed to pay a civil penalty of $750. Decision here.
Baloney, says Taylor. There was never an agreed upon deal. I signed nothing. That, for sure, begs a salient question: wouldn't a decree be signed in advance of the commission vote? The only signatures on the order are those of state commissioners. What's protocol?
Many defendants in these types of cases would gladly pay the fine, with a carrot to avoid admission of guilt and carry on in lieu of heavy legal costs. Not Taylor, a self-deprecating, Larry-The-Cable-Guy persona, who has a history of brushes with the law. In this case he's principled as a virtue to combat his years-long foil Maria Pereira, former school board member now city councilor, who marinates doggedly in SEEC complaints.
In an email exchange with SEEC staff attorney Kevin Ahern, Taylor's lawyer Mark Balaban declared "My client NEVER agreed to any of the proposals. I have been waiting for return calls for over two months."
Now what? The state is not commenting about the next step to reach a conclusion.
This seems to be one of those "ugh" moments. Someone screwed up, be it this side or that. Where's the hug for the ugh?
How these things work: complaint (Pereira) is filed with the state, an investigator and staff lawyer, in conjunction with the commission, determine its relevance to probe. Civil fines, based on concluded violations, can be levied at the discretion of the commission. If staff and commission determine the bad acts are criminal in nature they can refer it to the proper investigative body.
For Taylor, this whole episode is much ado about nothing. A waste of taxpayer money. Critics of the state agency agree asserting for all the time, effort, money they huff and puff and fold, settling cases comparatively for meager dollars.
Taylors says he's not settling. Period.
For Pereira the commission's decision is not much of a tonic for a labor-intensive complaint filed more than a year ago leading to a disputed $750 fine.
See below excerpt from commission decision, a consent agreement with no signature from Taylor.