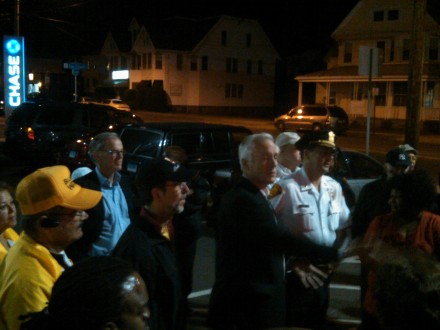 Republican endorsed candidate for governor Tom Foley has been promising details of an urban agenda ever since he announced his exploratory committee in Bridgeport last year. From the Associated Press:
Republican gubernatorial candidate Tom Foley said Monday he's still crafting his urban agenda for Connecticut's cities, focusing on issues such as high unemployment, a large educational achievement gap and affordable housing needs.
In March, Foley said his campaign was developing a plan, acknowledging that he didn't spend enough time campaigning in urban areas during the 2010 gubernatorial election, when he narrowly lost to Democratic Gov. Dannel P. Malloy.

Since then, Foley has been meeting with city residents to get input. He continued that mission on Monday, visiting local officials and shop owners in the "Little Poland" section of New Britain.

"I want to spend more time in the cities because I think Connecticut's future is no better than the future of our cities, and we have a lot of cities in Connecticut that have serious challenges," said Foley, who still faces an Aug. 12 Republican primary challenge against Senate Minority Leader John McKinney before he can wage a rematch against Malloy in November.
Full story here.