Joined by East End political leaders and City Council members, Mayor Joe Ganim on Monday attended the demolition commencement of a fire-ravaged building on Stratford Avenue that formerly housed the Petteway Market, a social club and apartments.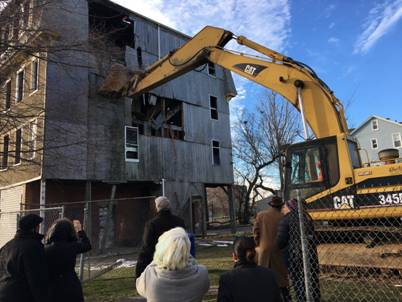 The building was damaged heavily in a 2014 fire and was condemned, according to mayoral spokesman Av Harris. There was no insurance policy for the property. Harris says 23 blighted buildings in the neighborhood have been identified for demolition. "The building contains hazardous materials and crews will work at the site over the next few days carefully removing debris and decontaminating the entire lot," says Harris. "Once cleared, the site can then be turned over for new economic development opportunities that can increase property values in the neighborhood and contribute to the city's tax base."
Former State Senator Ernie Newton and East End District Leader Ralph Ford who have been pressing Ganim for neighborhood improvements attended the demolition announcement. Newton is vice president of the East End Neighborhood Revitalization Zone. Public Facilities employee Tom Coble, a long-time political ally of Newton and Ford, is coordinating blight clean up. City Council members Eneida Martinez and Jeanette Herron, Public Facilities Director John Ricci, Health Director Maritza Bond and Economic Development Director Tim Gill also attended.
"Our war on blight is making progress, one building at a time," said Ganim in a statement. "We will continue to be aggressive identifying what buildings can be saved and redeveloped, and what buildings are an eyesore and a health hazard and need to come down so we can transform the neighborhood. My administration is committed to reviving the East End of Bridgeport and making this neighborhood the prosperous residential, commercial and cultural center it was historically. This will improve the quality of life for all the neighbors living near this blighted lot. Demolishing this building and others to come in the near future I hope sends a clear signal that we are serious of getting rid of blight in Bridgeport and clearing the way for new investment."