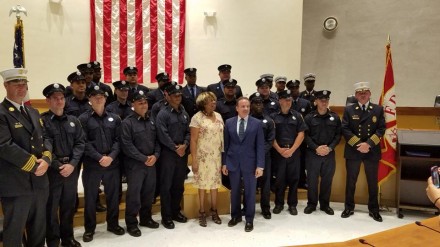 A promotional and swearing-in ceremony Wednesday night in City Hall brings the total number of firefighters to 308, what Chief Richard Thode declares is "the first time we've been at full staffing in years."

From Tara Oneill, CT Post:
"I'm happy and proud. The Bridgeport Fire Department is experiencing tremendous turnover."

And Thode said that turnover is being handled without significant disruption because Civil Service has kept up with promotions and the mayor's office has seen the importance of keeping a full staff of firefighters.

Over the next few years, Thode said, the department will have more new supervisors and firefighters.

The department tried to host swearing-in ceremonies as often as possible, but there have been so many retirements, hirings and promotions, it's been hard to keep up, Thode said.
Full story here.