From the CT Post:
Two separate fires that broke out at about the same time in the old and long vacant Remington Arms factory Tuesday morning is leading officials to suspect arson.
The blaze that burned through the top two floors of a five-story brick building and a smaller blaze in the complex further down Barnum Avenue "would indicate a suspicious origin," Deputy Chief Robert Petrucelli said.

A building across the street broke out in flames about two hours after the main blaze, but officials could not immediately say whether it was a third point of origin or set off by embers blown from the main fire.
Full story here.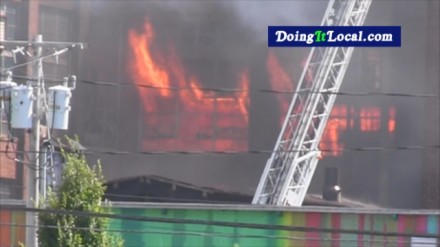 The buildings along Barnum Avenue have been ravaged by numerous fires throughout the past decade. Remington sold its Abrasive Products business and the Barnum Avenue site in Bridgeport to RemGrit Corporation in 1986, according to Remington's corporate history. In recent years most of the site has been controlled by a limited liability company led by developer Sal DiNardo who announced he would take down the buildings if the city waived back taxes. The city went to court to enforce payment of back taxes on the property. DiNardo had the LLC placed into bankruptcy court.
A portion of the property negotiated in court has been turned over to the city for a proposed train station with a waiver of back taxes. Last year the city secured $2.5 million in state funding to demolish a 57,600 square-foot manufacturing building and an 8,800 square-foot boiler building.
In July, calling a second city train station "Bridgeport's next evolution," Governor Dan Malloy visited the city to announce $2.75 million for engineering, design and environmental permitting in support of Barnum Station, an initiative proposed by Mayor Bill Finch and State Senator Andres Ayala.