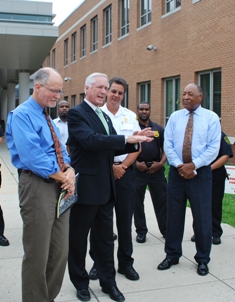 From Mayor Bill Finch:
On Tuesday, Mayor Bill Finch joined Superintendent of Schools Paul Vallas and Police Chief Joseph Gaudett to announce the "Safe Corridors" program, a new initiative to help keep students safe on their way to and from school.


The Safe Corridor program was developed jointly by the Board of Education and the Bridgeport Police Department. The program creates blocks-long perimeters around Bassick, Central and Harding high schools that will be marked and monitored by police, trained volunteers and cameras.

"Feeling safe and secure in one's environment is a catalyst for learning, creativity, and community building. This program will help ensure our students' safety inside and outside of school, which will have an impact on their performance in the classroom," said Mayor Finch. "I applaud the volunteers that will be involved in this initiative. Without the support of our community organizations, such initiatives are not possible."

Central High School's corridor will be bounded by Capitol, Madison, North and Park avenues. Bassick High School's corridor includes Clinton, Fairfield Avenue and State Street, and will extend to nearby Batalla and Bryant schools. Harding High School's corridor is bounded by Boston, Seaview, Grant and Mill Hill and will reach out to nearby Marin and Edison.

Plans are already underway to expand the Safe Corridors program beyond the high schools, with the goal of creating corridors for all Bridgeport public schools.