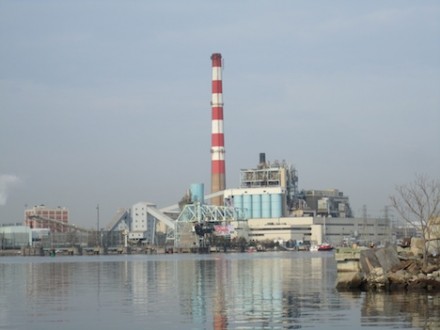 PSEG, one of the city's largest taxpayers, that runs the candy-striped coal power plant in the South End has a major say in how/when it converts to a cleaner use, but Mayor Bill Finch, in an election year, has formed a Citizen's Advisory Committee tasked with issuing recommendations for redevelopment and reuse.

Creation of the advisory group (it has no legal force to make change) was included in a resolution, passed by the City Council in October 2014,  urging phase out the PSEG coal plant, following persistent calls from environmental groups and activists.
"Bridgeport is moving forward due to a clean energy future," said Bridgeport Mayor Bill Finch in a statement. "We're creating green jobs. We're powering more and more homes through the production of virtually pollutant free energy right here in our city. And, we're continuing to become a national leader in the green economy."
City Council resolution: /bit.ly/1vJaz9W.
Finch's Citizen's Advisory Committee Members:
Ø Charles Rothenberger (Conn. Fund for the Environment/Legal Counsel)
Ø Onte Johnson (Conn. Sierra Club)
Ø Jack Hennessy (State Representative)
Ø George Estrada (University of Bridgeport, Director of Public Facilities)
Ø Adrienne Houel (Greater Bridgeport Community Enterprises/The Green Team)
Ø Sharon Lewis (Conn. Center for Environmental Justice)
Ø Jack Banta (Bridgeport City Council Member)
Ø Denese Taylor-Moye (Bridgeport City Council Member)
Ø Rev. Carl McCluster (Senior Pastor, Shiloh Baptist Church)
Ø Eduardo Rivera (Business Owner)
Ø Liz Torres (Bridgeport Neighborhood Trust)
Ø Bill Malone (President, Enviro Express Inc.)
Ø Kathleen Simpson (Conn. State Attorney for OPM)
"In order to beat back climate change, it's critical that Bridgeport experiences population growth, which means more families need to move to Bridgeport," said Finch. "And, in order to entice people to our city, we need to create green jobs, generate power through clean energy sources so our kids can breathe cleaner air, and make our city a place where more companies want to invest and hire people."