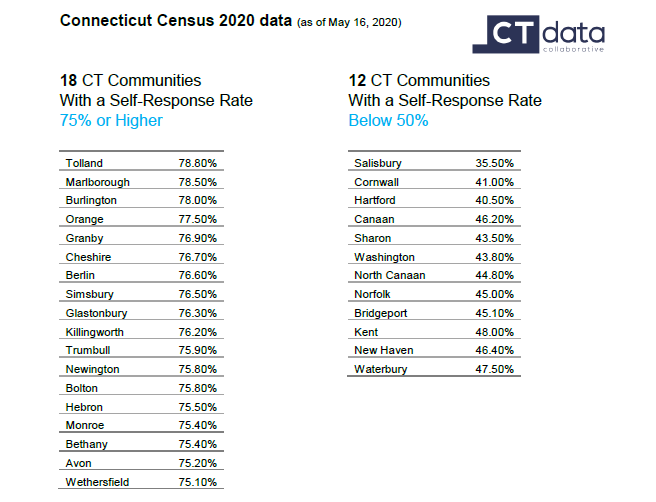 As the city lags behind in the Census 2020 response rate, Mayor Joe Ganim has asked state and federal officials for additional resources for marketing and grassroots field efforts to beef up resident responses. The statistics are used to to determine the flow of federal money to municipalities.
News release from Connecticut Data Collaborative.
Some Municipalities Lag in Census Response

Some municipalities are still far below their final 2010 self-response rate. Among the five that are furthest behind, each is located in Litchfield County: Sharon, Canaan, Salisbury, Norfolk, and North Canaan.

Lower self-response rates could result in undercounting communities, and undercounts could result in a loss of funding to those municipalities and to the state as a whole. Some of these communities may have low self-response rates because they live in areas that might receive special packets in the mail, which were delayed due to COVID-19. Others may be low due to lack of reliable Internet or even to concerns about completing the census questionnaire.

18 Communities Have Self-Response Rate of 75% or Higher; 12 Cities & Towns Below 50%

Thus far, 18 Connecticut communities have responded most strongly to the Census. As of May 16, these communities have a self-response rate of 75% or higher, led by Tolland at 79%, Marlborough (79%), Burlington (78%), and Orange (78%). The other top towns are Granby, Cheshire, Berlin, Simsbury, Glastonbury, Killingworth, Trumbull, Newington, Bolton, Hebron, Monroe, Bethany, Avon and Wethersfield.

Each of the municipalities that had the highest self-response rates in the state, as of May 16, 2020, were within less than 5 percentage points of their final 2010 rate, and likely within reach of surpassing their 2010 total self-response in the coming weeks.

The 12 communities with a self-response rate below 50% include Hartford (41%), Bridgeport (45%), New Haven (46%), and Waterbury (48%). The lowest self-response rate as of May 16 is in Salisbury, at 36%.

Households that have yet to respond to the Census can still do so, either online at www.2020census.gov, by phone, or by returning by mail the Census questionnaire that was mailed last month. Individuals responding to the census online are urged to use the Census ID from the letter or provide the address of their household. If they lost the mailing, households can still go online, type in their address and complete their form.  The response should include the number of people living at their address as of April 1.

"A strong statewide response is critical for Connecticut to receive the federal funding it deserves for the next 10 years," said Michelle Riordan-Nold, a member of Connecticut's Complete Count Committee and Executive Director of the Connecticut Data Collaborative, the lead organization for the State of Connecticut in the U.S. Census Bureau's State Data Center Program. "The response thus far has been uneven, and intensifying the effort in all our communities is essential for us to achieve as complete a count as possible. Fortunately, given the current safety concerns, individuals do not need to leave their homes to respond to the Census."

The U.S. Constitution mandates a census of the population every 10 years. Census statistics are used to determine the number of seats each state holds in the U.S. House of Representatives and informs how hundreds of billions of dollars in public funds are allocated by state, local and federal lawmakers for public services and infrastructure like hospitals, emergency response, schools and bridges over the next 10 years.

State officials have pointed out that Connecticut receives $10.7 billion annually in federal funding. The self-response rate in Connecticut in 2010 was 69.5%, slightly higher than the national rate of 66.5%.

The Connecticut Data Collaborative (www.ctdata.org) is the lead organization for Connecticut in the U.S. Census Bureau's State Data Center Program and Connecticut's official source for Census data related to the 2020 Census. Data and analysis, along with key information, is being posted to the website. The Connecticut Data Collaborative (CTData) is a statewide public-private partnership that advocates for the public availability of open and accessible data. Connecticut's Complete Count Committee website is www.ct.gov/census.