UPDATE, police report: Oh, this is an OIB moment. You don't often hear about men in kilts fighting. Robert Curwen Jr., son of the outgoing (or is he?) City Councilman Robert Curwen Sr., having a rowdy time the evening of the city's St. Patrick's Day celebration last Friday, was pinched by city police after a physical altercation with a relative that spilled out to McLevy Green and then mouthing off to cops that included oodles of name dropping. The younger Curwen wants to replace his father on the City Council, or so he was telling anyone willing to listen to him that night. This is a classic case of Curwen talking his way into handcuffs. According to the police report obtained by OIB through an FOI request, young Curwen told the arresting officer, "My father is Bob Curwen, I'm calling the mayor and you're going to be gone." Not a good thing to tell a cop.

According to the police report, last Friday, several hours after the city's St. Patrick's Day parade, police responded to a call of an altercation at McLevy Green Downtown where they found Curwen, 36, in an agitated state and mouthing off to cops. Police asked Curwen to chill out and when he refused to comply with a few choice words he was charged with interfering with police and breach of peace, processed at the cop house where he cooled off in lockup for a few hours. During the incident and afterwards in the cop house Curwen made it known he knows everybody in Bridgeport and he aspires to his father's council seat. Curwen's relative was not charged in the incident.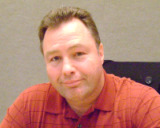 Papa Curwen, who represented the Upper East Side, verbally announced his resignation from the council a few months ago citing family health reasons, but as of late last week had not issued an official letter of resignation. He sold his Bridgeport house and moved his family to Virginia to attend to the medical needs of his daughter. Could it be daddy's holding back an official written resignation until he receives a commitment from his council peers they will confirm his son as his replacement? City Council members vote to fill vacancies, but city lawyers aren't convinced a verbal resignation is sufficient for an elected official to vacate office so the city's looking into a course of action for the council to void Curwen and vote on a replacement. But wait, now papa Curwen is telling folks he might just change his mind and remain on the council.
Police report by Police Officer Christine Burns:
I was dispatched to 909 Main Street, McLevy Green, on a report of two men in kilts assaulting each other. I observed both men who fit the description and were later identified as Curwen and (Raymond) Collette, on the corner of Main and Bank Streets in front of the McLevy Green, upon my arrival. Curwen was standing next to Collette, who was seated on a bench. I, along with officer P.O. Jarrett, approached the men and asked if everything was okay. Curwen stated they were related and that everything was fine. I detected a strong odor of alcohol emanating from both Curwen and Collette. I informed the men that I was sent there on a reported assault. Both stated that they were cousins and insisted they hadn't been fighting. I observed Collette bleeding from his left ear and I observed a cut on Curwen's left hand and a welt and some blood on the left side of his face. I immediately called for the medics via Channel 1. Curwen stated that the injuries occurred when Collette had fallen in front of a bar on State Street and he was unable to catch him on time.

Curwen stated that they did not need medical attention and were just going to leave. He stated that they were going to go to the Holiday Inn to meet his wife who would then drive them home from there. I informed Curwen that he'd have to wait for the medics as he and Collette appeared to be highly intoxicated and had apparent physical injuries. I told him that if the medics cleared them, they'd be free to leave.

Curwen stated that he was politically connected and that his father was Bob Curwen. Curwen began to appear agitated and I told him to take a seat on a nearby bench to await the medics. Curwen squared off on me, assumed a fighting stance and stated, "LETS NOT ESCALATE THIS, I'M NOT GOING TO SIT, I DON'T HAVE TO!" Curwen is approximately 6'2″, 240lbs and had the advantage of both height and weight over me. Fearing Curwen was about to become combative, I again insisted that he sit on the bench or the stone wall behind it. I repeated this command six or seven times. A crowd of pedestrians, who had been on Main and Bank Streets was beginning to form at this time. Curwen reached behind his back with his left hand and yelled, "YOU'RE AN ASSHOLE, OFFICER! MY FATHER IS BOB CURWEN, I'M CALLING THE MAYOR AND YOU'RE GOING TO BE GONE!" I immediately checked the area of Curwen's low back, fearing he was reaching for a weapon. Curwen then yelled, "I'M NOT RESTRAINING!" I placed my handcuffs on Curwen's left hand, which was already behind his back. A woman, later identified as Kasia Curwen, was approaching the scene while screaming and crying,"STOP!" as I was attempting to secure Curwen's right hand with my handcuffs.

Curwen began to yell, "GET THIS ON VIDEO! RECORD THIS WHOLE THING!" Kasia, Curwen's wife, began yelling, "SHUT UP! YOU FUCKING ASSHOLES, YOU DO THIS EVERY YEAR!" P.O. Jarrett calmed the visibly upset Mrs. Curwen who continued to state that Curwen and Collette are "assholes who get drunk and fight every year." Collette then stated, "Well, maybe every other year."

Medics responded and were refused by both Curwen and Collette.

I called for additional cover units and a supervisor at this time due to the situation escalating and threats being made. I began to escort Curwen to one of the marked patrol cars on scene when he began to yell, "OH, YOU'RE PUSHING ME NOW?!" I informed Curwen that I was going to place him in rear of a patrol car and he began yelling to a crowd of people gathered on the corner of Main and Bank Streets, "RECORD THIS! GET THIS ALL ON VIDEO!"

Sgt. E. Golding responded to the scene and I made him aware of the situation. Curwen was placed in the rear of a patrol car and was transported to Booking by P.O. T. Kristy.