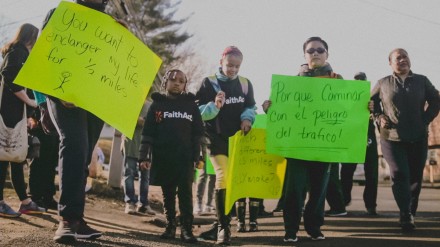 On Friday the community action group FaithActs for Education, citing safety concerns, protested a possible cut to busing services for elementary students who live between 1 and 1.5 miles from school that could save the financially strapped Bridgeport school district $1.3 million in transportation costs. School board member Maria Pereira asserts Governor Dan Malloy's proposed budget will strip Bridgeport of $4.6 million.

The Board of Education, see agenda here, will meet Monday, 6:30pm at the Aquaculture School. It's unclear, based on the agenda, if the transportation issue will be discussed.
The vast majority of students who do not have access to bus transportation generally will receive a ride from family or guardians.
Pereira has examined other school districts such as Hartford and New Haven to see what they're doing different than Bridgeport to save money. New Haven, she says, has a 1.5-mile model.
In a news release FaithActs asserts five school board members last November publicly committed to maintain a busing distance of one mile. Pereira, who did not attend, claims the FaithActs community forum meeting was conducted in violation of state law.
News release provided by FaithActs community organizer Keyla Medina:
On Monday, February 27, the Bridgeport Board of Education may vote to cut busing services for elementary students who live between 1 and 1.5 miles from school. By Monday's meeting, the Board will have publicly discussed the issue twice–a prerequisite for raising a vote. These cuts would impact more than 2,000 of Bridgeport's youngest and most vulnerable children.

At the FaithActs Community Forum with the Board of Education in November 2016, Board members Joe Larcheveque, Dennis Bradley, Howard Gardner, Annette Segarra-Negron, and Ben Walker–a quorum of the district's governing body–publicly committed to maintain a busing distance of 1 mile in order to protect children's safety.

At 8:00am on Friday, February 24, members of FaithActs for Education protested the proposed cuts by walking to school with students who would lose their busing services. Our goal was to demonstrate what it would really be like for our youngest students to walk 1.5 miles to school every day.

Pastors and parents accompanied three first- and fifth-grade students for 1.5 miles, beginning at their homes on Wayne Street and ending at the front entrance of Park City Magnet School on Chopsey Hill Road. Even with fair weather and a police presence to protect the children from traffic, it took 33 minutes to reach their school.

During our 1.5 Mile Protest Walk, we experienced:
– No sidewalks for over a mile
– Busy intersections without crossing guards
– Trash, broken bottles, and refuse in our path
– Speeding cars and aggressive drivers

It is irresponsible and immoral to balance a budget by endangering children's lives. It's also unclear how much of their funding the Board of Education would even save by making these cuts. FaithActs members have publicly demanded that the busing distance for elementary students remain 1 mile, we've secured public commitments from members of the Board, and we'll continue to hold them to those commitments.

FaithActs would like to extend our sincere gratitude to City Council member Jeanette Herron, Board of Education member Dennis Bradley, and the officers of the Bridgeport Police Department who joined us for the 1.5 Mile Protest Walk.