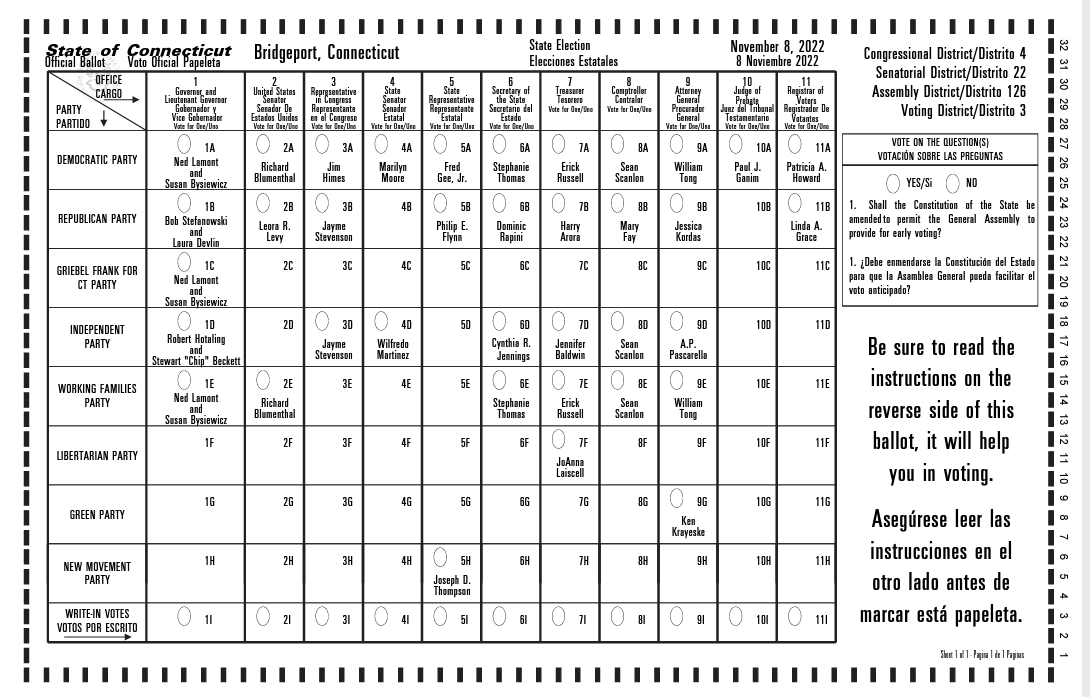 Sample ballot 126th State House District
Most states allow some form of early voting separate from excuse-only absentee voting as is the case in Connecticut.
On Nov. 8, Connecticut electors will decide yes or no to the following question: Shall the Constitution of the State be amended to permit the General Assembly to provide for early voting?
This initiative is led by the Democratic-controlled legislature while many Republicans lean puritanical to the measure.
The question has received little attention from advocacy groups, either for or against.

Supporters of the question view narrow ballot access as a form of voter suppression leading Bridgeport campaign operatives, for example, to place a premium on harvesting absentee ballots creating an assortment of legal issues.
Open up the access and you limit the potential for fraud. It also mitigates scare tactics as was the case in the recent State House primary redo between City Councilman Marcus Brown and State Rep. Jack Hennessy.
Knowing its precinct turnout weaknesses, the Hennessy camp dropped lit pieces frightening potential Brown voters about the penalties for absentee ballot fraud which in itself is a form of voter suppression. Connecticut electors are handcuffed by a set of excuses such as illness or being out of town to vote by absentee, one of a few states requiring that.
As it turned out, Hennessy's campaign did well to harvest absentee ballot voters while Brown shellacked Hennessy with walk-in voters to defeat the incumbent. They will face off again Nov. 8 with Brown as the Democratic standard bearer and Hennessy occupying the Connecticut Working Families Party line.