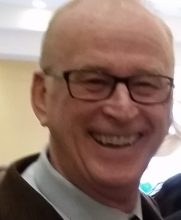 Asserting the acts of his co-conspirator AJ Perez were far more "egregious" U.S. District Judge Kari Dooley on Tuesday sentenced former Personnel Director David Dunn to four months in prison for his role rigging the police chief test to benefit Perez who was sentenced to one year and a day on Monday.
"Mr. Dunn," the judge intoned after issuing the prison sentence, "I still don't know why you're here," puzzled by the dichotomy of his professional career with the bad acts.
While Dooley condemned Dunn's role to wire an unfair advantage including questions in advance and tailoring the selection process to benefit Perez, she also cited Dunn's age, 73, poor health and no prior record in issuing the sentence, as well as dozens of letters in support.
Most of Dunn's professional career had centered on labor and employee relations in Bridgeport and other municipalities. He was part of the 20-somethings Kiddie Korps crew that bespoke the mayoral administration of John Mandanici (1975-81); a zippy, blue-collar Democrat with a lion's roar and lamb's touch, who had more than a dozen in his administration charged by the federal government for a variety of crimes during his six years in office, none that landed his upstarts in the joint.
Tom Bucci, the young lawyer working in the city attorney's office, was elected mayor in 1985, defeating Republican Lenny Paoletta who had lanced Mandanici injured by a self-inflicted relationship with the black community. Upon Bucci's election, Dunn assumed the role he had with Mandanici as director of Labor Relations.
Labor work continued for Dunn during Joe Ganim 1, John Fabrizi and Bill Finch mayoral years. Under Finch, approved by the Civil Service Commission, Dunn was elevated to director of personnel that oversees payroll, hiring and administration of competitive testing including exams for the leaders of public safety.
In a city with a dwindling patronage system due to budget constraints, it allowed mayors flexibility to slip in hires driven normally by the testing process, often noted by retired firefighters Donald Day and Ron Mackey who bemoaned Dunn's rigidness to create equity in tests that would advance more hires of women, people of color and city residents to public safety positions.
Dunn's loyalty to political protocol bit him hard in the end when he conspired with Perez to wire the 2018 test for top cop in his favor including question advantage and eliminating the requirement that all applicants hold a bachelor's degree. The inside job placed Perez among the top three finalists that allowed Mayor Joe Ganim to select him for the five-year appointment, under City Charter regulations.
Why did Dunn do it?
He was being a loyal political soldier and as the judge pointed out he derived no personal benefit. Dunn says he thought that's what the mayor wanted, based on Ganim's long-time friendship with Perez, irrespective of no contact with Ganim asking or ordering him to make it easy to select Perez. Dunn says he had no conversation with Ganim during the selection process. Dunn can't give the government a direct line to the mayor. And where with all of the federal government's vast investigative resources is an email, a text, a paper trail implicating the mayor? If it's there we'd know about it.
A selection committee member telling federal investigators that Dunn declared the mayor wanted Perez in the top three doesn't mean anything in putting together a federal probe without layers of corroboration.
So what did Dunn, now 73 years old, gain from this personal ego trip? Mountain ranges of grief, a broken bank account, $300,000 in restitution and an effort to garnish his municipal pension.
Still, all in all, four months should be a relief for Dunn. All of the above led to the lesser sentence.
Dunn expects to self-surrender in about six weeks and requested that he serve the time in the federal prison camp in Otisville, NY.
Dunn's address to the judge:
First and foremost I'd like to sincerely apologize to the citizens of Bridgeport, my co-workers in the Civil Service office, members of the Civil Service Commission, and the city officials and employees who put their trust in me as Director of Civil Service. I've betrayed that trust.

I'd also like to apologize to my family, friends and the many professional associates who I've let down.

As I stand before you, the wrongness of my conduct is apparent as is the harm it has caused. I accept full responsibility for these actions. What I did was wrong. For that I feel deep regret and remorse. I was born, raised and educated in this city, I worked for the city for over 30 years. My entire professional reputation is tied to the city of Bridgeport, and more importantly I love and care about this city. I know that Bridgeport deserves fair, honest leadership. In this regard I failed and for that I'm truly sorry.

I hope today is the first step in helping the city to recover from the harm that I've caused.