It's hard to believe nearly 25 years after Tom Bucci served his last day as mayor, a dozen friends and members from his mayoral staff gather each December between Christmas and the New Year to reminisce, needle, pontificate, argue, compare crow's feet, laugh lines, hairlines and waistlines. This is a crew with a sense of humor; you need one to survive in city politics. They're much older now but still the Kiddie Korps.

The Kiddie Korps has its roots under sweet-and-sour John Mandanici, mayor from 1975-81, who hired a number of young guns to key administration positions, all in their late 20s. John Norko as comptroller, David Dunn as director of Labor Relations, Robert Buccino as chief aide and Tom Bucci in the City Attorney's Office. When Bucci became mayor in 1985 he did the same, a bunch of us in our late 20s. I was communications director and adviser.
Bucci is the cousin of Democratic Town Chair Mario Testa whose restaurant on Madison Avenue serves as the annual venue. The other day, it did not take long for the ribbing to commence.
"Hey Dunn," one at the table cracked, "what's it like getting the crap kicked out of you on Only In Bridgeport?"
Dunn currently serves as the city's personnel director in charge of Civil Service. Employment and labor relations have been his life.
"Who's been picking on me?" Dunn draws back in mock horror.
"Mackey and Day."
Ron Mackey and Donald Day, members of the Firebirds that represent black firefighters, have knocked heads with Dunn over a variety of personnel issues for about 30 years. Both served as city firefighters.
"So what else is new," Dunn responds.
At this annual event no one is really safe from the verbal knife. The conversation gets around to government holdovers from the Bucci years now in the Bill Finch administration. "Yeah Tom, thanks for giving us Sherwood!" one at the table declares.
As city employees go, Tom Sherwood is a survivor among survivors. He serves as the city's budget director. He knows more about the city's $500 million spending plan than anyone on the planet. Need to find money, talk to Sherwood. Need to transfer money, talk to Sherwood. Need a bad guy in the budget process, push out Sherwood. Navigating Sherwood's forest is never an easy thing. What's second nature to him in discussing the complexities of a budget is a maze of befuddling details for the common person.
Sherwood joined city government as a bean counter during the Bucci years around the time Bucci sought state assistance to tourniquet a bleeding budget. Throughout the years Sherwood graduated to chief bean counter. He has now served under five mayors.
A couple of city scribes who covered the Bucci administration have become honorary members of the Kiddie Korps, Anna Maria Virzi who covered City Hall for The Telegram and John Gilmore (an occasional contributor to OIB) who chronicled politics for the Bridgeport Post, predecessor papers of the Connecticut Post. Back then it was not uncommon for 15 journalists to attend an ordinary mayoral news conference. The Post-Telegram papers had scribes to cover just about every city department. Those days are long over.
Virzi and Gilmore, who've done well professionally outside of journalism, were pros. They put the work in. Rational pols could do battle with them without it being all-out war.
It's hard to think about the Bucci mayoral years without the collapse of L'Ambiance Plaza, the most gut-wrenching 10 days in the history of the city. On April 23, 1987 Bucci was lunching at a restaurant when he got the call. He raced back to discover the horror of a massive building collapse a couple of blocks from City Hall. A half-completed rental housing complex on Washington Avenue overlooking the route 25-8 Connector came apart burying workers under tons of twisted steel and shattered concrete. Twenty-eight men died.
Bucci delivered the painful news to the grief-filled families of the victims at a support compound in the Kolbe Cathedral High School across the street. National media converged on the city trying to unearth every possible angle. Builders had used a construction process called lift slab. Concrete foundations for each floor of the building were poured on the construction site and then I-beams were jacked up and welded into place. Federal investigators eventually determined that the jacking mechanism hoisting the slabs had accidentally slipped.
Larry Merly was the city attorney appointed by Bucci. He took on the state's powerful insurance companies that balked at underwriting the city's disaster costs as the struggle to locate the buried workers continued. Merly has cashews that clank. Speaking before a crew of national journalists, Merly called the insurance companies "barracudas content to allow the workers to rot in the rubble." Merly pried loose an insurance fund of more than $1 million to aid the rescue efforts.
Bucci and Norko, his chief administrative officer, made multiple daily visits to the L'Ambiance site. One day as they walked over together Norko had a sobering declaration for Bucci, "So this is what being mayor is all about."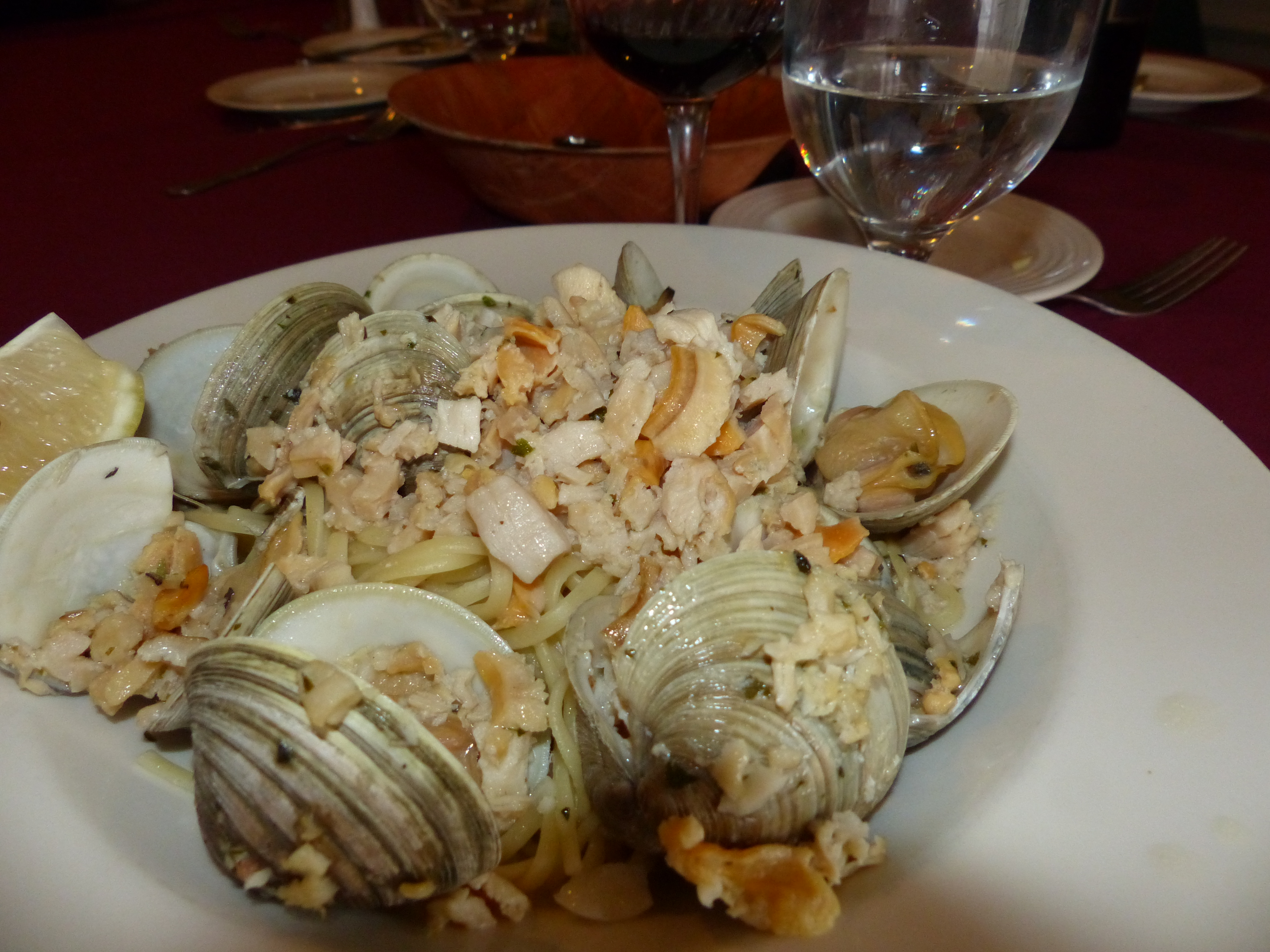 These days Bucci's a practicing attorney specializing in employment discrimination. Many city employees who believe they've been wrongfully terminated or due process violated have sought his expertise. He knows his stuff.
If you're wondering if the venerable Democratic Town Chair Mario Testa joined the lunch party at his restaurant on Monday, he was busy attending to his other restaurant near the Fairfield-Bridgeport line just a few minutes away.
"Where's Mario?" someone asked about the political leader who has felt a few OIB zingers throughout the years.
Said Bucci, who has a twisted sense of humor, "He'll show up as soon as Lennie leaves."