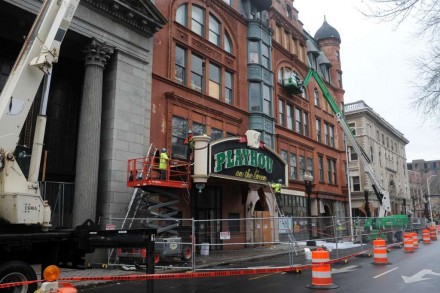 The area around McLevy Green Downtown is growing a brighter face with building renovations, new housing units and ongoing construction for a German beer hall and comedy club scheduled to open this summer.

CT Post reporter Frank Juliano has more:
The once brightly lit last marquee of the former Playhouse on the Green was removed on this week to make way for a new downtown entertainment district.

Come summer, the space will be lit up again with two entertainment venues–a German beer hall in the former Roberto's Restaurant and the Stress Factory Comeday Club in the theater space.

"Construction has been underway for a couple of months now, and we're maintaining the historical character, with new finishes," said the developer, Brett Wilderman of Forstone Capital LLC of Darien.

Forstone owns the two adjoining buildings on State Street and construction is underway to fit out those spaces and to create 32 apartments on the upper floors.
Full story here.