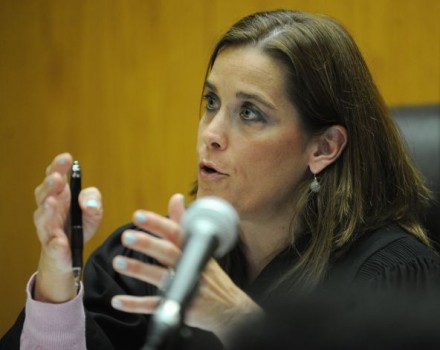 Should Superior Court Judge Barbara Bellis–who ruled Paul Vallas lacks the proper legal qualifications to serve as chief of city schools–have shifted the case to another court district? That's an argument lawyers representing Vallas have made for the record and may very well also bring up on appeal. The lawsuit against Vallas was brought by retired Superior Court Judge Carmen Lopez whose husband Superior Court Judge Dale Radcliffe works in the same courthouse as Bellis. Bellis is the civil presiding judge in Bridgeport court who assigns cases to Radcliffe.

Bellis' time as a judge overlapped with Lopez who retired from the bench in 2008. Bellis was appointed to the bench in June 2003. Court records show Deputy City Attorney Art Laske raised the potential conflict on the record with Bellis arguing during court hearings that a presiding judge hearing a case brought by the spouse of a judicial underling is "too close for comfort." Laske asked Bellis to recuse herself from the case and move the trial to a different court jurisdiction arguing how it was possible for Bellis to rule against a plaintiff's spouse she works with every day. Bellis responded she had no conflict and heard the matter.
Last week Bellis ruled Vallas lacked the legal qualifications to serve as superintendent of schools asserting the state cut corners in expediting a certification plan on Vallas' behalf. Vallas was hired to lead city schools 18 months ago at the urging of State Education Commissioner Stefan Pryor. The Board of Education eventually authorized a three-year contract for Vallas who had supervised school systems in Philadelphia, Chicago and New Orleans.
Bellis has become a high-profile jurist the past two years involving Bridgeport cases. In 2011, she ordered mayoral candidate Mary-Jane Foster's name be placed on the ballot after election officials rejected her petition application to wage a Democratic primary against Mayor Bill Finch. Bellis also was part of a three-judge panel that rejected an application for reinstatement of a law license by former Mayor Joe Ganim who was convicted on corruption charges in 2003.
The city's in the process of crafting its appeal response. It's possible the appeal may go directly to the Connecticut Supreme Court. The city is expected to hire a legal appellate specialist in the Vallas case. Meanwhile Vallas remains in charge of the school system during the appeal process.
After retiring from the bench in 2008, Lopez became active in city education issues aligning herself with Connecticut's Working Families Party that opposed Vallas' appointment. In 2009 Lopez sought the endorsement for a Board of Education seat from the 90-member Democratic Town Committee. She was not endorsed. She did not wage a primary. This is an election year for five Board of Education seats.