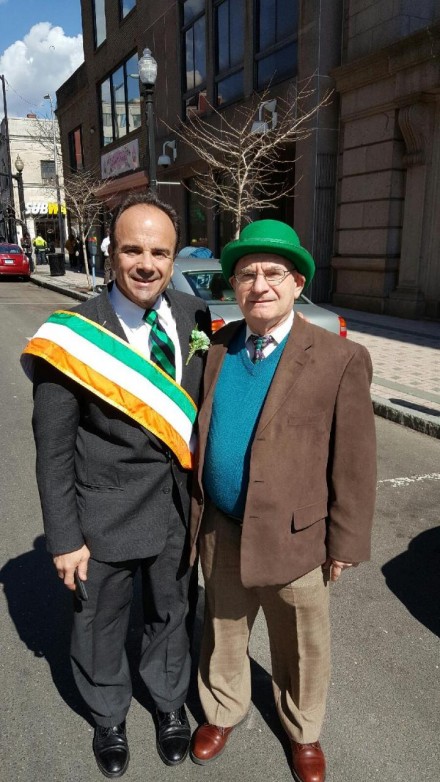 Bridgeport's Democratic Party is looking for a few good women in district leadership positions. On March 14, Democratic Town Chair Mario Testa, backed by Mayor Joe Ganim, overwhelmingly won another two-year term as party leader. On the same night the respective members of the 10-district, 90-strong DTC also announced district leaders. All of them are men except for party outsider Maria Pereira, in the Upper East Side 138th District, who ran a primary slate against the organizational structure and prevailed with all nine seats. Pereira is also a member of the Board of Education.

The Democratic Town Committee represents the organizational power structure and influence of the party apparatus that sometimes prevails, but also has taken a licking in various city races in recent years. They are the party players that endorse candidates for elected office and select a chairman. More than half of the 20-member City Council maintain DTC seats. Some are State House members, some mayoral appointees, some have been involved for decades, still others are newcomers. The district leaders generally set the tone for neighborhood organizational structure to turn out a vote.
City officials, be it the makeup of public safety ranks or discretionary appointees of the mayor to leadership positions, often fend off criticism charging lack of diversity. Pereira, for one, quickly noticed she was the lone female heading up a district. Leaders are chosen by the respective district membership. Pereira backed Ganim for mayor, but quickly had a falling out with him over education issues. Pereira issued this statement:
As someone that worked full time on Joe Ganim's campaign for 5 months, 7 days per week; it was obvious that high-level contributions from  women were not valued nor welcome. Day after day I would go to his main headquarters where I would regularly see executive level meetings taking place in the conference room behind glass doors. The only woman I ever saw in these high-level meetings was Gina Malheiro from Trumbull, and that was only when the meetings were around fundraising.

Time and time again these high-level meetings around political strategy only included men. In almost all cases they included Danny Roach, Ken Flatto, Chris Meyers, Tom Gaudett, John Ricci, etc. Once in a while you would see the token minority John Gomes.

Women were incredibly active in the campaign, however their contributions were relegated to phone banking, data entry, canvassing, photocopying, etc.

This was one of the most significant factors in my decision to run a DTC slate in the 138th. We had 10 DTC districts and not a single DTC leader was a woman.

If the powers that be don't see the invaluable contributions that women have made and continue to make in Bridgeport politics; you have to call their attention to it.  If the male power brokers of Bridgeport don't want to give you a voice; just let them hear you through your actions and victories. Don't ask their permission to be heard. Just get out there and make yourself heard through your constituent's actions at the polls.

That's what this woman did.

In addition to district leaders, the party elects officers. Testa will point to the gender makeup of party officers and overall makeup of the 90 members being representative of the city's gender makeup.

Former City Council President Lisa Parziale whose West Side slate lost to one headed up by longtime District Leader Mike Freddino says the issue is "about women not going out there and doing what Maria Pereira did."

Town Committee members by district. Leaders in bold.

District 130: Danny Roach, Joann Manzo, Michael Meehan, Tom Mulligan, Eric Amado, Joy Cline, Shaquana Shaw, Anne Larcheveque, Cathleen Simpson.

District 131: Mitch Robles, Genovena Miranda, Michelle Robles, Jose Negron Sr, Jack Banta, Denese Taylor-Moye, Jorge Cruz Sr, Glen Pettway, Paul Bouchard.

District 132: Mike Freddino, Anthony Lancia, Marcus Brown, John Olson, Elaine Pivirotto, Reggie Walker, Evette Brantley, Vernon Thompson Jr, Rolanda Smith.

District 133: Tom McCarthy, Vincent DiPalma, Abel Chaparro, Anne Pappas Phillips, Michael DeFilippo, Albertina Baptista, Joseph Moura, Jeanette Herron, Peretz Robinson.

District 134: Dennis Scinto, Johanna Dorgan, Matthew Cuminotto Jr, John Fabrizi, Patricia Nolan, Tom Lyons, Marilyn Santacroce, Tom Gecewicz, Steve Auerbach.

District 135: Steve Nelson, Charlie Stallworth, Carmen Hatton, Craig Jones, Fred Gee Jr., Mary McBride Lee, Darrett Evans Moss, Doris Roman Nelson, Lisa Anderson

District 136: Chris Rosario, Wanda Geter Pataky, Antonio Felipe, Jose Casco, Fabio Mazo, Angel DePara Jr., Janet Gomes, Tom Gaudett, Jose Morales.

District 137: Gil Hernandez, Lydia Martinez, Maria Hernandez, Aidee Nieves, Joel Rosario, Jessica Martinez, Anderson Ayala, Alreta Taylor, Teresa Davidson.

District 138: Maria Pereira, Michelle Fox, Angel Figueroa, Eric Stewart-Alicea, Helen Losak, Andrea White, Dolores Fonseca, Rafael Fonseca Jr., Chris Roy Allen.

District 139: Ralph Ford, Charlie Coviello, James Holloway, Ernie Newton, Clem Young, Willeen Gibson, Keith Williams, Eneida Martinez, Barbara Pouchet.

Party officers: Town Chairman Mario Testa, Secretary Johanna Dorgan, Treasurer Maria Heller, Vice Chair Elaine Pivirotto, Vice Chair James Holloway, Vice Chair Aidee Nieves, Sergeant At Arms Anthony Paoletto, Sergeant of Arms Wanda Geter Pataky, Sergeant At Arms Steve Nelson.