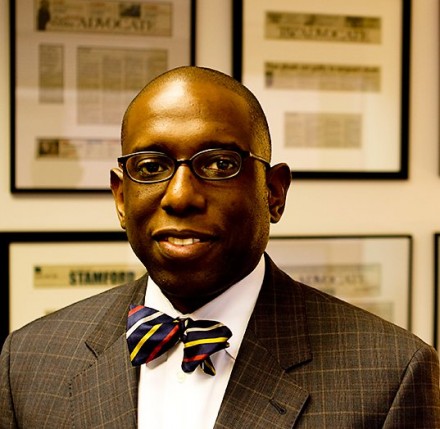 Darnell Crosland lacks the profile of prominent Connecticut criminal defense attorneys such as Hugh Keefe, Willie Dow, Andy Bowman and Norm Pattis, but his name recognition will certainly grow representing former State Senator Ernie Newton, a media lightning rod, charged last Friday with state election violations. Crosland, recently elected president of the Norwalk chapter of the NAACP, is perhaps best known locally for representing Tanya McDowell, the 34-year-old woman who pleaded guilty to larceny charges for enrolling her 6-year-old son in Norwalk public school despite residing in Bridgeport.

The other day Crosland told the Connecticut Post the issues raised by the state in the criminal complaint against Newton are historically treated as a civil matter.
"We don't understand why Mr. Newton is being dragged before the criminal courts under these circumstances," Crosland said, claiming that Newton ran a clean election.
This case could finish Newton from any chance at public office again and worse send him back to prison following his 2006 incarceration on public corruption charges. But if Crosland can shoot holes in the state's allegations that Newton manipulated campaign contributions to qualify for public financing in his State Senate race last summer it could energize Newton's standing with his voting base in the city's East End. African Americans are often suspicious of law enforcement motives and if they think the government is piling on aggressively it could trigger sympathy for Newton and elevate his standing as a community voice.
Newton's been uncharacteristically quiet since the state charges were leveled last Friday, no doubt at the urging of Crosland. To know Newton is to know a pol who's a media magnet, sometimes against his own good. Newton received a 60-month sentence from U.S. District Judge Alan Nevas in 2006, and many court observers maintain Nevas reached for the highest end of the federal sentencing guidelines that were then in use based on Newton's public posturing such as declaring himself the "Moses of my people."
Newton for his guilty plea, in fact received far more time than the federal corruption sentence of former Governor John Rowland who spent just one quarter of the time in the joint courtesy of the late federal judge Peter Dorsey. The  Newton and Rowland cases contrast the disparity that can occur in the meat grinder of the judicial process. The lawyer you have, the prosecutor assigned to the case and judge making the sentencing call all are factors in the eventual outcome. The difference for Newton this time is the state system. Most seasoned criminal defense attorneys say privately they prefer to navigate the state system over the federal for the best outcome for their client. The feds historically make stronger cases.
Newton is not a man of wealth and criminal defense attorneys in Fairfield County charge $400 an hour and more. Dare say Crosland's fee is not as high as other defense attorneys, but this process will not be inexpensive for Newton financially or emotionally. Crosland's counsel will help determine whether Newton is revived or if his life will never again be the same.