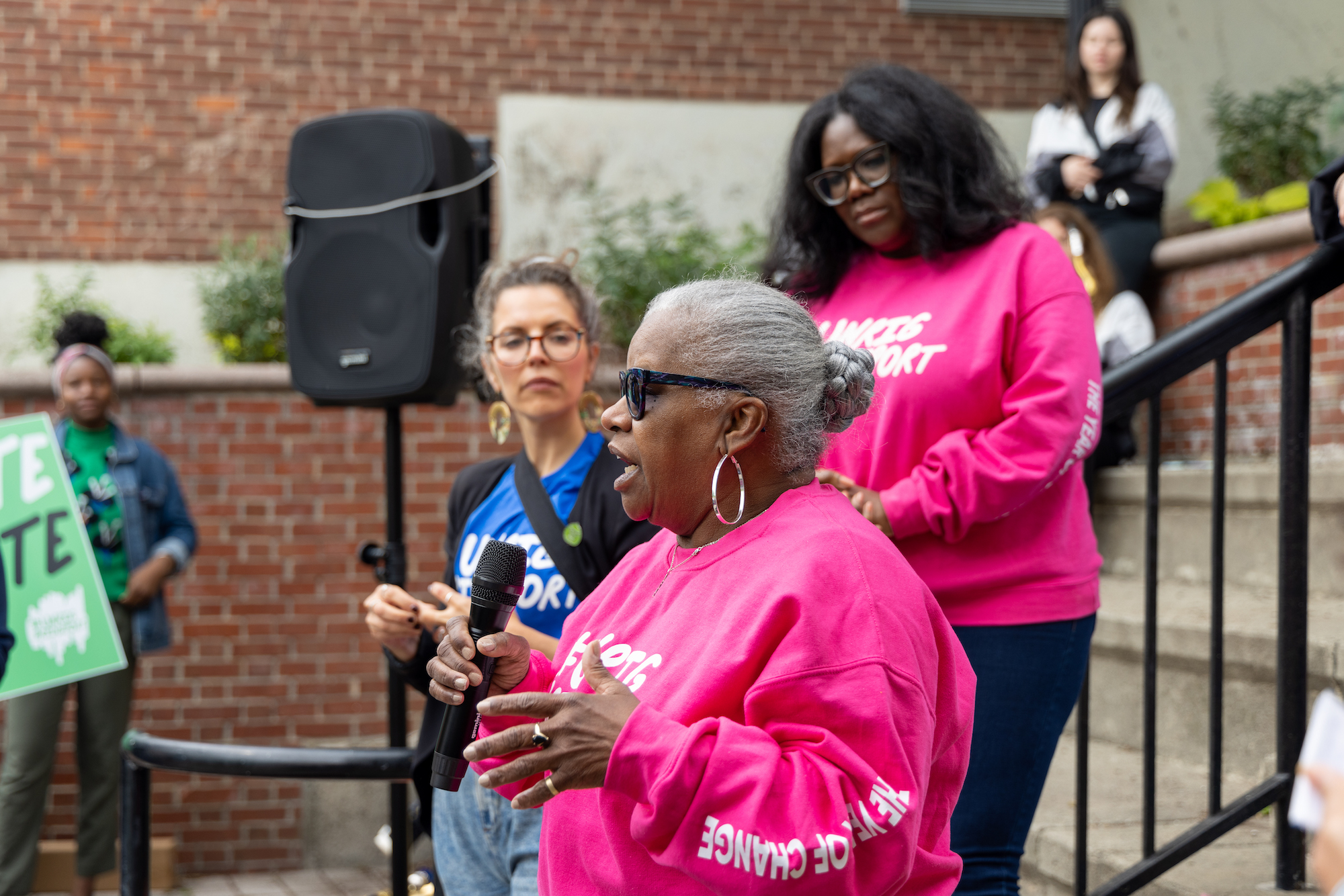 The shell game advanced by the dark money organization supporting State Senator Marilyn Moore's mayoral run will mail 19,000 absentee ballot applications soon to registered Democrats, according to an eblast, the largest unsolicited saturation in history, says the Town Clerk's Office that oversees processing of ballots.
Founders of Bridgeport Generation Now Votes Callie Heilmann and Gemeem Davis are leading the expensive push.
The organization is under growing scrutiny for potential illegal coordination of campaign expenses benefiting Moore who appeared with Davis and Heilmann at a public endorsement last month in which Gen Now Votes spent thousands of dollars. Gen Now Votes is pledging to spend nearly $100,000 to further Moore's election, but has not disclosed the source of the money, according to its latest campaign finance report. Davis served as Moore's 2019 campaign manager for mayor. The trio have been close for years hashing out campaign machinations.
Heilmann's wealthy husband Niels Heilmann is treasurer of the group which helped to finance a losing lawsuit to overturn results of the 2019 mayoral primary.
Connecticut law prohibits organizations such as Gen Now Votes to coordinate expenditures with candidates it supports.
For years Heilmann, Davis and Moore have complained about the proliferation of absentee ballots deciding elections. Now they've decided to join the party kicking up the stakes with a mass mailing to nearly half of the Democratic electorate.
Gen Now Votes communication:
Bridgeport Generation Now Votes is excited to announce that we are set to mail Bridgeport voters Connecticut's guidelines and applications for voting by mail for those who may qualify. The letter accompanied by the application explicitly states that it is not nor intended to be in support of or against any candidate running for office and directs all further inquiries to the office of the Secretary of The State. The mailer, in English and in Spanish will go to approximately 19,000 primary voters.
Here's the rub, the organization cites "not nor intended to be in support of or against any candidate running for office" as cover against flouting the rules. It can, however, and will certainly do so, include or in a separate mailing push Moore's candidacy.
They must also follow these rules:
If any voters did receive an absentee ballot application from you, you must keep a list of those voters and file it with the Town Clerk before the election, primary or referendum.

Don't forget to list the names and addresses of all voters who received an application from you!
You must file it with the Town Clerk of each voter's residence ASAP.

This is a legal requirement so that people can receive the absentee ballot and complete it on time.

If you want to follow up with the applicants, you can do so. You can also check with the Town Clerk to see if someone applied for or returned an absentee ballot.

Meanwhile, Moore is trying to make the September 12 primary ballot needing roughly 2,000 confirmed signatures of Democratic voters. Is that effort being coordinated with Gen Now Votes?