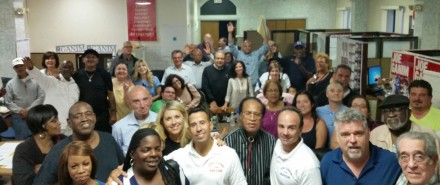 Joe Ganim carries a refrain inside his head that goes something like this, "I've come too far, I've come too far." Ganim won the Democratic primary in historic fashion, knocking off an incumbent mayor. He danced on a table, followers exploded with joy both in praise of Ganim's comeback and with glee that he had filleted Bill Finch who over eight years piled up his share of enemies. Some voters saw Ganim as the vehicle to lance Finch. And now that Finch is sayonara as mayor, albeit throwing his prestige behind Mary-Jane Foster, Ganim recognizes the perception held by some of his core followers, some of whom view him as a rock star: he has it in the bag for the general election. That can be a dangerous specter on the way to a Nov. 3 encore.

In a story by the Hartford Courant's Chris Keating, Ganim says "My concern, if I have one, is a lot of people feel I've already won. We want to be sure we don't have voter complacency."
When it comes to campaigning, Ganim is like a chihuahua on steroids. Although stoic in nature, rarely moved by emotion in thought process, Ganim is an intense campaign warrior who will bark, nip and growl at supporters to take nothing for granted. A lot of volunteers have busted butts for Ganim who has inspired them through his tireless campaigning.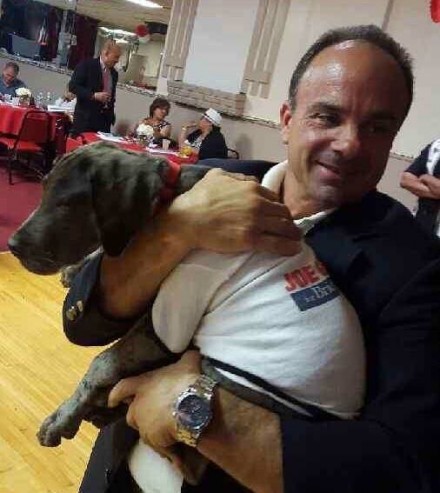 The campaign, flush with dough in the final week, has now brought on hired guns supplementing loyal volunteers to help deliver the vote. Ganim understands the finesse and gratitude that comes with keeping volunteers focused. But if he's paying a campaign worker, it's a whole different animal. He will blow up their cell phones with calls, provide marching orders, remind them of tasks. He will drive them insane, if need be, to reach his destination.
Remember that scene in Die Hard when one of the bad guys smashes a table of glasses? John McClane's wife Holly Gennero declares, "He's alive … only John can drive somebody that crazy." That's Joe.
Ganim has not had a traditional paid campaign manager in this quest for redemption. He's had experienced campaign hands, operatives and friends, some old and new, such as Danny Roach, John Ricci, Chris Meyer, Gina Malheiro, Lissette Colon, Ken Flatto, Danny Pizarro, Tom Gaudett and Tom Coble and dozens of others step up, divvying up key tasks motivated by their own set of factors to get the job done, whether fundraising, political troubleshooting, scheduling, research and voter registration. Ganim has blown through several strategists who handle messaging and mail. His direct mail campaign in the primary was flaccid. Still, he won by the force of his ferocious work, door knocking, managing free media opportunities particularly public safety that connected largely with African American voters who gravitated to his "second chance" message. But what also carried Ganim was the passion of those volunteers that buoyed a massive retail operation not seen in a mayoral primary in 30 years.
Ganim hopes to stoke that passion one more week. Complacency is an enemy.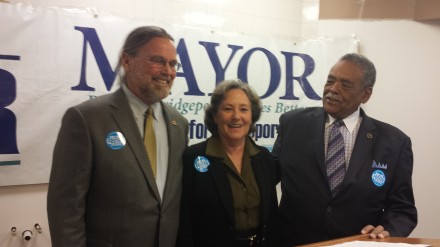 In the spring of 2011, largely unknown, Mary-Jane Foster entered the mayoral race to take on incumbent Bill Finch. Outspent two to one, lacking the ground operation enjoyed by Finch, Foster cracked 40 percent of the vote in the Democratic primary, and almost ran even with Finch in Dunbar School, the mighty African American precinct in the East End. She did not embarrass herself. In politics you must build upon the opportunities created, otherwise you end up looking around befuddled when some core supporters end up someplace else. That's what happened to Foster. Despite 2011 supporters urging her to make a decision about plans for 2015, she was betrayed by her misplaced political skill set. In December of 2014 she said I'll have a decision in January. It never came. Then it was next month, no, wait, next month. Meanwhile, despite numerous warnings about losing support, Joe Ganim entered the race and began poaching her people. Finch also courted some of her 2011 supporters because they believed he was the only one who could stop Ganim.
Foster, an executive at the University of Bridgeport, entered the race late, looked around and saw some core support from 2011 gone, had trouble raising money, ponied up about $100K of her own loot and was drubbed in the primary. She never had traction as a primary candidate. She never even had a toehold. The general election is now a different animal. She has significant traction now, and it's growing, in higher-turnout areas.
Circumstances have dictated her relevance. Finch lost the primary, his political operatives botched his November ballot access. Who was left as the antidote to Ganim? In the view of the majority of Finch's political operation and others anathema to Ganim, it was Foster. Finch endorsed her, seasoned fundraisers with deep Rolodexes such as former Democratic Town Chair John Stafstrom worked the business community and personal contacts to raise money, government reformers such as Tom Swan who serves as executive director of the Connecticut Citizens Action Group put their professional life on hold to work full time for the campaign. More than $100K was raised in a week, five mail pieces hit in 10 days elevating her name recognition. The money also finances paid canvassers to supplement volunteer door knocks on her behalf. Media outlets have taken notice.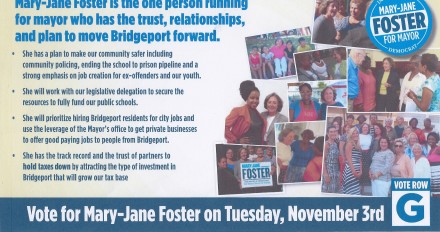 Foster relishes her new viability in the race, unafraid to challenge Ganim during forums on the past and future. Once friends, her disdain for Ganim goes back more than 15 years when Ganim torpedoed her development proposal in conjunction with the management of the 10,000-seat arena, as part of a pay-to-play scam in which Ganim chose another entity. Foster had earned her development stripes as co-founder of the Bridgeport Bluefish baseball team. On March 19, 2003, the day of Ganim's conviction on St. Joseph's Day, she hosted a "conviction party" at Joseph's Steakhouse, the restaurant Ganim recruited to the city. Critics called it a cheesy move by Foster. Foster says it was highly appropriate in light of the damage Ganim did to the city.
On the campaign trail, contrasting Ganim, she shares stories of her upbringing, "Always tell the truth and never make a promise you can't keep."
What's the path for a Foster win? Combining about two-thirds of Finch's 5,800 primary votes to the 1,200 she received, as well as 3,000-plus unaffiliated voters and like-minded Republican voters. She must run up large pluralities in the higher-turnout areas of the city such as Black Rock, West Side and North End while avoiding the mauling Finch received in African American precincts carried by Ganim. Foster has picked up support from key Latino political operatives, among them State Rep. Chris Rosario, former State Senator Andres Ayala, now the state commissioner of Motor Vehicles, social service activist Carmen Colon and City Councilwoman Lydia Martinez. How close can they keep Foster in key Latino precincts such as Marin School and Barnum School?
The biggest question for Foster demographically, however, is her traction in black neighborhoods where Ganim is popular. She has lots of ground to make up there. In campaigns, winning in relative. What's a win for Foster in predominantly black precincts such as Wilbur Cross, Hallen and Dunbar? Coming in close to 40 percent of the vote. If that doesn't happen, Ganim becomes mayor.
Republican Rick Torres is a unique study of passion and peculiarity. Former Republican State Senator Rob Russo said it best, noting Torres' popular neighborhood market gathering, "When Harborview Rick shows up (as a candidate) he's very good." Harborview Rick showed up earlier this year in a battle with Steve Stafstrom, the nephew of John Stafstrom, and several others running for the open State House seat of Auden Grogins, now on the state bench, covering Black Rock, West End and West Side. Torres largely focused on bread and butter state issues that connect with voters. He won on the machines, but came up short due to Stafstrom's absentee ballot operation.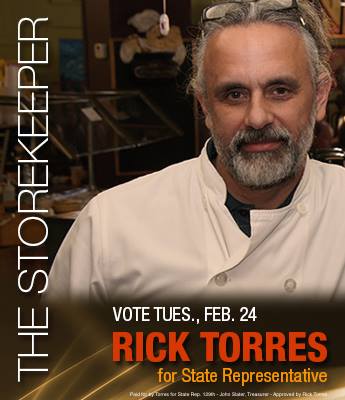 Torres has a strong story to tell about growing up in public housing, the product of Cuban immigrants, not learning English until the third grade. He has built an inviting business where active neighborhood residents, Democrat, Republican and others, enjoy banter of city life. Torres won a seat on the City Council defeating Stafstrom in 2013. This is his third time running for mayor. He ran a competitive race as the Republican nominee, spending more than $200K against Democrat John Fabrizi who as City Council president replaced Ganim as mayor following his conviction on federal corruption charges in 2003. Torres benefited from the city electorate in a testy mood with the Democratic establishment. In the end, however, the Democrat mountainous registration advantage over Republicans prevailed.
In 2011, an underfunded Torres tried for mayor again, losing to Finch by roughly 8,400 to 3,400.
When Torres operates at peak disciplined efficiency, he's the strongest policy wonk in the race. Torres' critics argue he gets in trouble when his sociologist bent takes over. He sports a tattoo of a black power symbol on his arm, a piece of solidarity, he asserts, about the "black struggle" and "saving the black man" from government programs he claims keeps them down. Last week he announced on his Facebook page he will model his mayoral race after Jesus. Torres supporters say he's honest and sincere in presenting his views. His detractors say he's a misguided crackpot.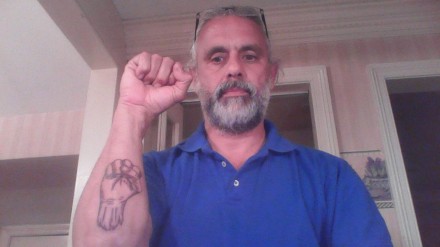 It's frustrating for Torres and his dedicated following to be reminded of the overwhelming Democratic registration. He has a strong base of support in Black Rock, the last bastion of Republican politics, where he is splitting an anti-Ganim vote with Foster. Scouring votes outside of his voter base along the waterfront hamlet, particularly with limited funds against two well-financed opponents, is often rowing against the tide.
Four other names will appear on the November ballot for mayor, Charlie Coviello, Tony Barr, Christopher Taylor and David Daniels, all unknown and underfunded.