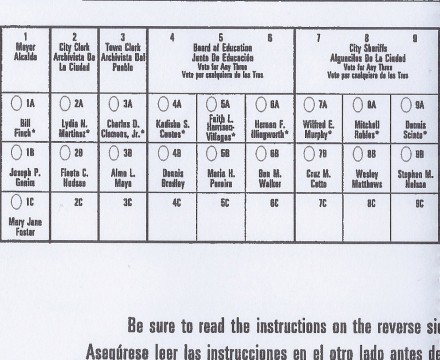 Two days left until 40,000 eligible Democrats head to the polls to choose Bill Finch, Joe Ganim or Mary-Jane Foster for mayor as well as candidates for city clerk, town clerk, school board, sheriff and City Council. The ballot pictured, featuring citywide candidates, is for districts without primaries for City Council. In districts that have City Council primaries, 130, 131, 132, 137 and 138, the candidates appear last on the ballot following city sheriffs. Polls for Wednesday's primary are open from 6 a.m. to 8 p.m.

Council candidates running on Finch's line: 130th District, Katie Bukovsky, Scott Burns; 131st District, Jack Banta, Denese Taylor-Moye; 132nd District, Evette Brantley, John Olson;  137th District, Milta Feliciano, Aidee Nieves; 138th District, James Morton, Melanie Jackson.
Council candidates running on Ganim's line: 130th District John Marshall Lee and Tyisha Toms; 131st District Jorge Cruz; 132nd Bob Halstead and Lisa Parziale; 137th District Juan Hernandez and Maria Valle; 138th District Anthony Paoletto and Nessah Smith.
Teresa Davidson in the 137th District and Charles Hare and Julia Concepcion in the 138th District petitioned onto the ballot and will be on Mary-Jane Foster's line.