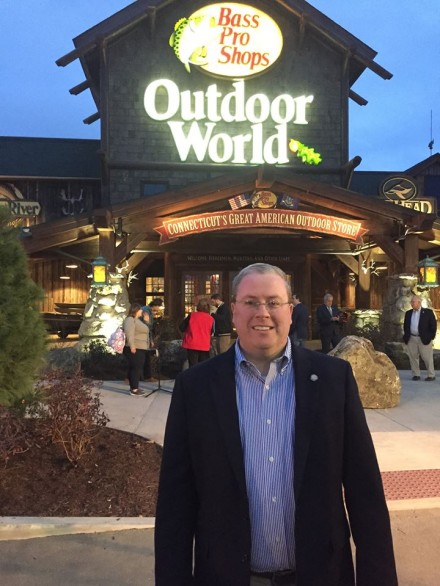 City Council President Tom McCarthy's employment exit with the city as deputy director of Labor Relations received a boost Monday night when his peers on the Miscellaneous Matters Committee voted to approve a severance package that sources say is roughly $35,000 with 18 months of health benefits. The full City Council could vote on the matter at its next meeting February 1.

The council committee, McCarthy did not attend, entered into an extended executive session to be briefed on the contents of the package chiefly negotiated by Associate City Attorney Mark Anastasi and former Mayor Tom Bucci, a labor attorney representing McCarthy. Bucci and McCarthy, threatening a lawsuit, shot high, Mayor Joe Ganim shot low, the parties came to an agreement to avoid lengthy litigation and bruised feelings. Democratic Town Chair Mario Testa who has a strong relationship with McCarthy said he was willing to leave his city position "in peace" with a reasonable settlement.
Ganim on the campaign trail promised to address conflicts of interest such as city employee councilors who approve their own wages and benefits. The Bridgeport City Charter prohibits city employee councilors but Anastasi years ago crafted a legal decision arguing state law allows it. McCarthy became a flashpoint of conflict during the Bill Finch mayoral years. How could the head of the legislative branch of government provide a check on the executive branch when it signs his paycheck? Ganim and City Attorney R. Christopher Meyer took the position that McCarthy, as deputy director of Labor Relations, worked at the pleasure of the mayor. Bucci countered not so fast, a court may see otherwise, you must remove him for cause. Rather than test it in court the parties agreed to settle. The full council generally approves action approved by the respective council committees.
Assuming McCarthy's severance package is approved, that would leave only two other city employee councilors the Ganim administration could address, James Holloway and Milta Feliciano, both of whom however have union protection. The most vociferous opponents to city employee councilors argue that the egregious conflict is the council president working directly for the executive branch. McCarthy was appointed to a city job and won his council seat during Ganim's first tenure as mayor. McCarthy was elected council president shortly after Finch became mayor in December of 2007. McCarthy was a Finch loyalist who even followed Finch's lead in supporting Mary-Jane Foster for mayor in the general election after Ganim lanced Finch in the September Democratic primary.
Despite Ganim's win, McCarthy remained a popular figure among his peers lining up the votes for another term as council president before Ganim received the oath of office in his comeback. McCarthy, an old-school pol who doesn't like airing dirty laundry in public, has said very little about his severance package, referring questions to Bucci.
CT Post reporter Brian Lockhart has more on this.
"I think it's a fair deal," Councilwoman Milta Feliciano said. "We risk losing a lot more money … going to court and trials and dragging it out."

Feliciano also works for Bridgeport, running the veterans affairs department. But unlike McCarthy, she enjoys union protection.

During his comeback campaign, Ganim sided with those who for years have complained that it is a conflict of interest for council members to govern the city for which they work. McCarthy, as council president, was targeted because, the understanding had been, he and his colleagues who run the labor office and negotiate union contracts served at the pleasure of the mayor.
Full story here.