I love vote cutting. That's when supporters of the endorsed line conspire to help a friend on another line.
There's something of a plot going on between candidates on different lines. Some supporters of State Rep. Robert Keeley, who received the Democratic Party endorsement when Town Chairman Mario Testa broke a tie among delegate voters, are also supporting state senate candidate Marilyn Moore, who's running on the same line as Keeley's opponent Auden Grogins.
Mario wants Keeley to win. He also wants Trumbull Town Treasurer Anthony Musto, the party endorsed candidate for state senate, to win. Those respective state senate and state rep districts share several common precincts. But how do you coordinate a vote for endorsed candidates when they're being cut?
So, I'm wondering, if Keeley supporters are playing footsies with Moore operatives, are Grogins and Musto far behind?
I've been poking around on this. Right now all I'm getting is a wink and a smile.
And you thought I cared about issues.
Big Day
I'm speechless (well, almost). OIB enjoyed 2,300 pageviews yesterday, easily the highest number in its young history, surpassing the day in March when Mario Testa reclaimed the Democratic town chairmanship after a five-year layoff.
I'm hoping Anna and Yahooy keep their love affair going, and the Bridgeport Kid and Up On Bridgeport continue dukes up. As someone wrote to me recently, I visited a blog the other day and a fight broke out. He was talking about OIB.
Politics in Bridgeport is something of a contact sport so OIB follows suit, albeit verbally.
Reno Rocks
Any time a radio station cans its highest-profile personality it's with major trepidation. After all, it's a ratings game. More listeners, more money. (Sorta what I do. You guys bail out on me and I'm toast.) Last December, the indomitable John LaBarca (boat, in Italian) was beached, after a series of run-ins with management, for Tony Reno, a genial voice with big shoes to fill. LaBarca's Italian House Party on Sunday was a major profit center for WICC, as well as his Monday through Friday morning gig.
The ratings are in, and according to Arbitron, the market analyst that tracks radio listeners, Reno's spring numbers are better than LaBarca's final quarter at WICC, in the all-important 25-54 demographic. (That's scary, in five years I'm in the senior bracket.) I'm happy for Reno. The last thing he wanted was to get off to a slow start in a business with loud footsteps.
In LaBarca's final ratings book, his morning time slot trailed WPLR, WEZN (Star 99) and the powerhouse number one WEBE. Reno's slot came in second behind WEBE, followed by WEZN and WPLR. Take note: WICC is the lone AM station among FM dominance. As AM goes, WICC is a national anomaly, still with morning drive-time juice. WICC's news, information, traffic and weather thing is still a fit around here, throw in local talk and it's something to sell. AM, in general, was ready for the obit page until a guy named Rush Limbaugh came along and, well, talk radio is the staple of AM programming.
WEBE, sister station of WICC, owned by Atlanta-based Cumulus Media, was the brainchild of Vince Cremona, former general manager of both stations. He had an idea: let's put our FM transmitter atop the UI smokestack. Presto: big reach throughout Fairfield and New Haven counties.
Finch Salutes Dad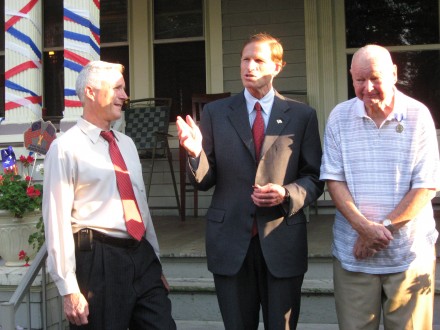 Mayor Bill Finch chats with Attorney General Richard Blumenthal, center, and his father William Finch Sr., a World War II veteran, in front of the mayor's home on Crown Street during a ceremony to raise funds for a World War II Memorial at McLevy Green. The World War II Memorial is slated for completion by the end of this year. Anyone wishing to donate should send a check, payable to the Bridgeport Veterans Memorial Commission, to:
Ed Mastrone, Office of Veterans Affairs
752 East Main St. Room 180
Bridgeport, CT 06608
For questions about the program call Lisa Iodice at 203-576-3964.