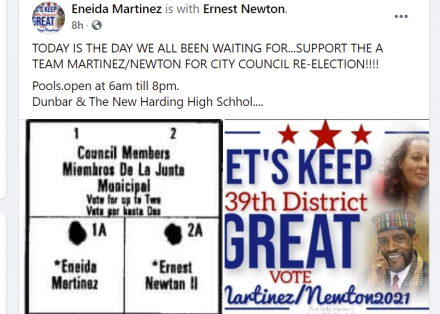 A little unintended levity never hurts on primary day, especially when trying to juice turnout. Note this Facebook post "Pools open at 6am till 8pm."
Pack a picnic, throw in a life jacket, head to Dunbar and Harding for a quick dip. Remember to vote on the way out.
Incumbent East End City Council members Eneida Martinez and Ernie Newton are challenged by Wanda Simmons and Victoria Majewski featuring a Facebook-slinging give and take. No matter the outcome Tuesday Simmons and Majewski have a ballot line in November on the Working Families Party label.
Maybe when it's all done all four can hold hands and jump in the pool.