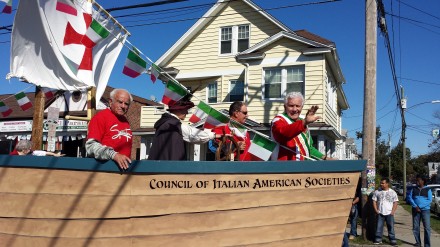 News release:
Mark your calendar!

The Columbus Day Parade is coming back to Bridgeport.

Officials with the Council of Italian American Societies of Greater Bridgeport announced that that the 111th Bridgeport Columbus Day Parade and Italian Street Festival under the banner, "Celebrating Greater Bridgeport's Italian Business Community," will take place on Sunday, October 13, a day before the official celebration of Columbus Day.

The parade is coming back to Bridgeport after a one-year hiatus when the event took place in Shelton following a warm sincere welcome from Mayor Mark Lauretti and the people of Shelton. The C.I.A.S. very much appreciates the generosity and support from the Shelton community.

The issues between the City of Bridgeport and the C.I.A.S. which caused the parade hiatus have now been resolved, paving the way for the return of the parade to the place of its origin–Bridgeport.

"110 years ago, the parade was started by Bridgeport's Italian community, and it's coming home again. The tradition continues," said Chris Caruso, the treasurer of the C.I.A.S., and one of the parade organizers.

Caruso said he and other officials are working on the parade line-up, but expect to have a large number of floats, marching bands, Italian dancers, the Shriners, police and fire departments, clowns, and local dignitaries. Caruso said that a Marine Corps Band will definitely perform in the parade this year, as has been the tradition for the past 29 years.

As it has in past years, the parade will start at the corner of Jewett Avenue and Wayne Street, wind its way south on Madison Avenue and then end at the corner of Wheeler Avenue and Madison near Micalizzi's Italian Ice. Caruso said an Italian street festival would take place there, featuring traditional and popular Italian foods such as pizza, pizza fritta, calzones, sausage and peppers, Italian ice, cannoli, and much more. There will also be music and activities for the children. "It will be a fun-filled family event," said Caruso.

The Columbus Day Parade in Bridgeport is the oldest continuously running Columbus Day Parade in Connecticut and in much of the Northeast, said Caruso. The Bridgeport parade began in 1908, as a way of celebrating the Italian heritage and culture. The Bridgeport event started 21 years before the Columbus Day Parade began in New York City.

In 1908, then President Theodore Roosevelt sent a Marine Corps band up to Bridgeport to be part of the celebration. US naval ships also sailed into Bridgeport Harbor as part of the scheduled events.

In 1979, the C.I.A.S. became the official sponsor of the Bridgeport Columbus Day Parade and annual celebration. The Council is a 501(c)3 charitable and educational organization.