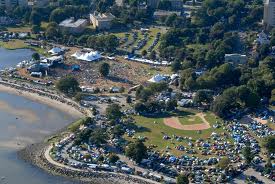 Bridgeport's more than 100-page Waterfront Plan see here prepared by city economic development officials, urban planners and hundreds of city stakeholders covering Bridgeport neighborhoods is now ready. Economic development official Dean Mack, who serves as a city point person for the project, delivered a presentation to the City Council Monday night.
According to a website devoted to the plan, called Waterfront Bridgeport, it's "designed for action in the short- and long-term, along with a forthcoming implementation kit for the proposed public waterfront pathway."
The waterfront plan has five goals for re-imagining the water's edge:
1. Increase public access along the waterfront.
2. Create jobs and economic prosperity for residents.
3. Repurpose vacant or abandoned properties.
4. Encourage water-based recreation and an active waterfront.
5. Boost resiliency to protect against climate change effects.