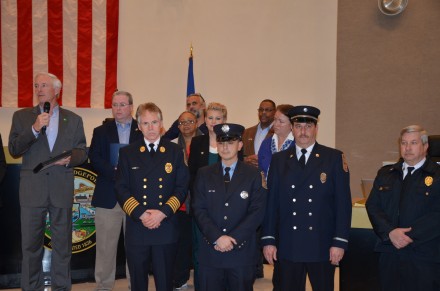 From Public Safety spokesman Bill Kaempffer:
Mayor Bill Finch and City Council honored three firefighters Monday in City Council Chambers for their heroic rescue of a 93-year-old woman in a Nov. 19, house fire on Bennett Street.
"Tonight, we are saying thank you to three firefighters who put their own lives at risk to save the life of a 93-year-old woman in a house fire," Mayor Bill Finch said Monday. "They will probably say they were 'just doing their job.' If that's the case, they did their job with valor. We owe all of our firefighters a debt of gratitude for protecting our kids and families each and every day in the Park City."

The Fire Department responded to 214 Bennett St at 10:15 p.m. and encountered heavy fire coming from the rear of the building.

Alerted that a victim was still inside, Firefighters Bobby Hernandez, from Ladder 11, and Richard Messer, from Rescue 5, crawled through the apartment and located a closed bedroom door that was locked from the inside.

They breached the door and found the woman unconscious.

They grabbed the woman and began rushing her outside. She regained consciousness and began to struggle. Lt. Neal Carr, of Engine 4, came to their assistance and helped carry her the rest of the way to safety.

"Were it not for their quick actions, this would have had a tragic outcome," said Fire Chief Brian Rooney. "The firefighters did an outstanding job."

The firefighters without hesitation put their own lives at risk to save someone else.

"Firefighters sign up recognizing it is a dangerous job, and they react instinctively," said Mayor Finch, adding, "What automatically comes to some people doesn't always come automatically for the rest of us."

Councilwoman Susan Brannelly, in whose district the fire occurred, said the firefighters "saved the course of this family's history."

"You keep us safe and we are deeply grateful," she told the firefighters.

Hernandez and Carr said the recognition is shared by every firefighter who responded to the fire and to the department as a whole.

The true heroes are the firefighters who risk their lives and don't make it home to their families.

Bridgeport lost two firefighters in 2010 in an Elmwood Street fire.

"The real heroes are Lt. Steven Velasquez and Firefighter Michel Baik," Hernandez said.