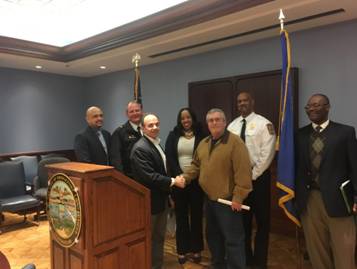 UPDATE: Mayor named Thode fire chief today (Friday)
Mayor Joe Ganim on Wednesday was joined by local Fire Union President Robert Whitbread and acting Chief Richard Thode to announce the city and union have reached a wage agreement on a contract extension through 2020. Ganim says the agreement will save the city more than $1 million over 12 months. The first year calls for a zero wage increase.

OIB friend Donald Day, a retired city firefighter, reports in the comments section "The old contract ran until January 2019 with a 2.5 raise in 2017 and a 2.5 raise in 2018. The new contract called for a 0 raise in 2017, a 2.5 raise in 2018, a 2.5 raise in 2019 and a 2.0 raise in 2020. It also gave them two additional captains in training, one being Emergency Management and Safety/EMS and .30/hr night differential upon ratification of this contract."
Bridgeport Fire Union Vice President David Dobbs Thursday afternoon confirmed with OIB the numbers shared by Day. "We understand we work in Bridgeport and not Greenwich so when asked to step up we decided to do our part," he said. "We're always sensitive to the financial situation of the city. Both sides in this situation came away with something."
Will the firefighters agreement encourage the Police Union, still to be heard from, to provide the concessions Ganim seeks?
"All parties and departments worked hard together to reach an agreement that will bring our city enormous savings, and that will make a positive impact on our budget and ultimately a savings for our residents," said Ganim.
"We are pleased with the restructuring and our overall agreement," said Thode. "I'm also proud to say that we reached these savings with absolutely no reduction in line force."
The current budget year approved by the City Council that ends June 30 calls for $4 million in collective union concessions. So far, the city reports it has attained zero wage increases from six unions for one year.
The finalists for fire chief are Thode, former Washington DC fire chief Dennis Rubin and former Trenton, NJ deputy chief Leonard Carmichael. The mayoral appointment, per City Charter, is for five years, with the possibility of another five-year contract.