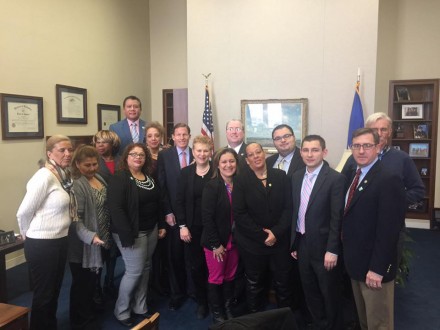 Waste of taxpayer dollars or prudent lobbying work on behalf of the city? The majority of the 20-member City Council are in Washington DC this week attending a conference junket hosted by the National League of Cities. They attended government symposiums, were greeted by Connecticut's U.S. Senators Richard Blumenthal and Chris Murphy and even met Vice President Mike Pence, according to City Council President Tom McCarthy who is providing updates on his Facebook page about the trip.

One McCarthy post drew a rebuke from city resident Phil Smith, "Has anyone noticed that Bridgeport is in the midst of a fiscal crisis? Sending that many people is ridiculous."
McCarthy, grand marshal for this Friday's St. Patrick's Day parade Downtown, writes on his Facebook page:
Busy day today as the Bridgeport City Council lobbied on behalf of the city. We met with Senator Blumenthal and Senator Murphy. Had great discussions on strategies to maintain the vital federal programs that put police and firemen on the streets, gives housing to our veterans and helps the poorest in our community. We then met our counterparts from New Haven, Litchfield, Seymour, etc., to work together to make our case stronger. PS We met the Vice President, too.
…
At National League of Cities telling the story of the positive impact of the programs facing cuts in the new administration's budget. Investments in CDBG, COPS grants, SAFER grants and brownfield grants, help our cities and nation grow. But more importantly investments pay back in multiples of the original investment. These investments grow jobs and save us money in the long term.
Every City Council member may access a $9,000 annual stipend that can theoretically cover the costs of such trips. Council members argue the junkets provide needed knowledge and build relationships with federal government decision makers in the cause of representing their constituents.
Cynics assert council members attend way too many of these things in the cause of having a good time on the taxpayer dime. Former City Council member Tom White who also served as legislative liaison often questions the relevance.
Mayor Joe Ganim and selected staffers also attend these types of functions.
This is an election year for council members, all Democrats. Many of them could face a September primary.
The council's Budget and Appropriations Committee, in particular, will be busy in three weeks after Ganim submits his spending plan for the budget year that starts July 1.