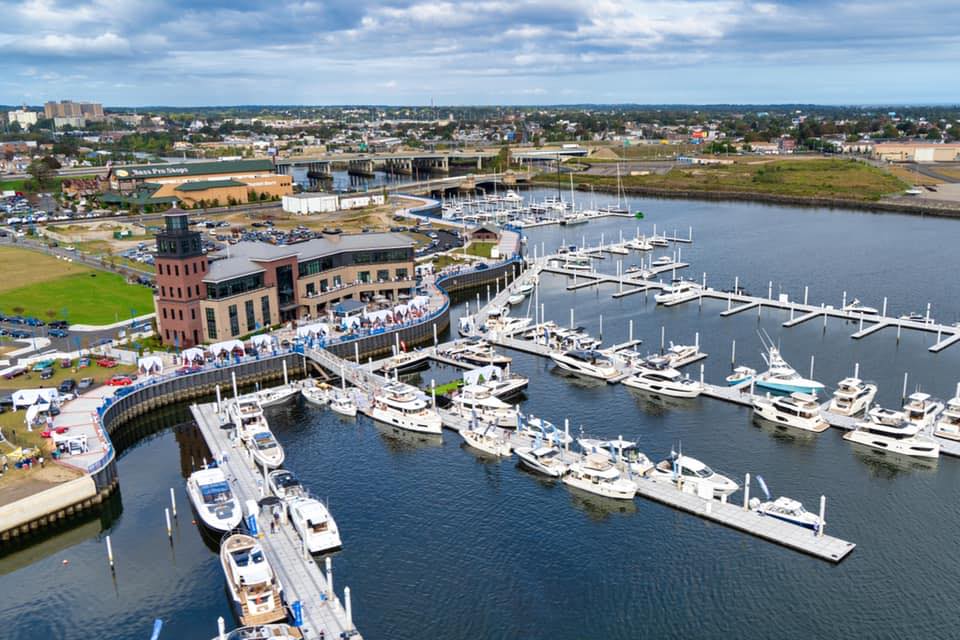 File image, Steelpointe Harbor, June 2021.
The City Council Monday night by a 14-5 vote approved a tax abatement for the next phase of the Steelpointe Harbor redevelopment area that calls for 400 units of waterfront housing, hotel and associated retail at the nexus of the East Side and East End along Stratford Avenue.
Bridgeport Landing Development plans groundbreaking this spring.
Under the terms of the agreement, the developer will pay taxes on the cost of the land for three years annually, $23,900, during the construction and occupancy phase. Tax payments will increase to $1.26 million in 2025, rising by two percent each year, reaching $1.47 million in the final year of the abatement. Full standard taxation will then commence.
The apartments will range in price from $2,100 to $2,700 per month which supporters of the project assert creates a higher-end housing market bringing new investment into the city.
Vote breakdown:
Yes: Scott Burns, Matt McCarthy, Jorge Cruz, Marcus Brown, Rolanda Smith, Jeanette Herron, Michele Lyons, AmyMarie Vizzo-Paniccia, Mary-McBride Lee, Rosalina Roman-Christy, Alfredo Castillo, Aidee Nieves, Maria Valle, Ernie Newton.
No: Tyler Mack, Aikeem Boyd, Maria Pereira, Michelle Small, Wanda Simmons.
Councilman Avelino Silva was absent.
This approval blends a current retail synergy with a market-rate housing component to attract new investment into the city a short distance from Downtown.
The urban renewal property currently features Bass Pro Shops, Starbucks, a 220-slip full-service marina, affiliated Bridgeport Boat Works, pedestrian walkway and Boca Oyster Bar.
Goldman Sachs and JP Morgan Chase were among investors participating in a recent sale of $48 million worth of revenue bonds to provide the resources to start building the towers and hotel.
"We look forward to the next couple of years as vertical construction continues, new businesses and new jobs are created, and the hotel and housing towers begin to welcome visitors and residents to a new live, work and play Connecticut waterfront neighborhood," says Robert Christoph Jr. a principal with Bridgeport Landing Development.
While this current construction phase attracts market rate housing with views of Long Island Sound, developers have partnered with Bridgeport Neighborhood Together to create 45 offsite workforce housing units toward the required 10 percent allotment of what is being built on the 44-acre redevelopment area that once housed a power plant cutting off water access.
Another 44 units proposed on East Main Street, they say, have been submitted for approval.
Bridgeport Landing Development has also partnered with Bridgeport-based, minority-owned Ashlar Construction for the mixed-use development in the East End that includes a grocery store in the food desert neighborhood.