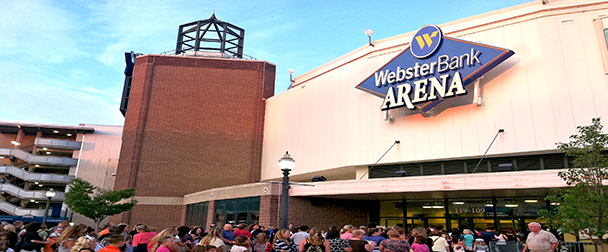 The 10-year, $3.5 million naming rights relationship between Webster Bank and the Arena at Harbor Yard has elapsed, according to several city sources.
The deal included exterior building signage, highway directional signage, at box offices, on both ends of the basketball court, and within the center ice location for hockey games. The agreement also provided Webster Bank with the exclusive rights to install Webster ATMs in the arena concourses, digital messaging rights, promotional exposure in brochures, collateral materials and websites, and premium hospitality options.
Oak View Group manages the city-owned arena, a 10,000-seat multi-purpose facility which is home to the Bridgeport Islanders, the American Hockey League affiliate of the New York Islanders.
It's customary for signage to remain in place until a naming-rights replacement is found. Oak View negotiates the naming rights, splitting the fees with city government.
When Oak View was announced as the new management team in 2019 it came with optimism to breathe new life into the underutilized destination, especially during warm-weather months.
At the time Travis Williams, president of Business Operations for the New York Islanders declared "It became clear to us that we needed a partner focused on attracting high-quality events and entertainment for our clients, customers and the region. Oak View Group has an experienced team with extensive resources, contacts and knowledge of our industry that will help us to deliver these events."
The buoyancy, however, has not measured up. Hockey attendees assert crowds have dwindled, even with the name change from Sound Tigers to Islanders. The New York Islanders manage the hockey side of events.
Critics also cite the lack of community outreach, marketing, local business synergy and little management connection to Bridgeport and surrounding areas.
Led by hockey and basketball, winter months feature the entertainment sweet spots with a full calendar of events through March. Upcoming highlights include Disney On Ice this month and NCAA Women's Division 1 regional college basketball in March.
Statement from Bridgeport Economic Development Director Tom Gill:
The Naming Rights Agreement between the Arena and Webster has elapsed. Arena Management is currently assessing a new contract for the naming rights. The City is not involved in the process. The Operating Agreement that is in place between the Arena and the City does call for an equal sharing on revenue generated from the naming rights in excess of $2,000,000 after deducting direct, out-of-pocket expenses, not to exceed 10% of the aggregate value of all Naming Rights Revenues, but in no event exceeding $500,000. The City will begin to share when the new contact is in place.
The arena is also on the short list of sites under consideration for a sports betting operation in conjunction with Connecticut Lottery. Under state legislation, Bridgeport is to serve as a host city. A site announcement is expected by spring.