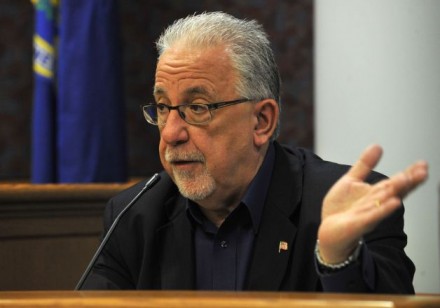 When Michael Skakel left a Stamford courthouse on Thursday a free man, now awaiting a new trial in the 1975 murder of teenager Martha Moxley, it was private investigator Vito Colucci who whisked him away from the media throng. Colucci, who has worked many cases in Bridgeport, was instrumental in Skakel receiving a new trial as a result of the ineffective assistance of counsel by lawyer Mickey Sherman. See below excerpts of profiles I've written about Colucci through the years.

February 2002: Michael Skakel, Vito Colucci Jr. and Kris Steele, Skakel's 6'6, 360-pound bodyguard, kneel at the front altar of Grace Evangelical Church, two doors down from Colucci's home office in Stamford's upscale Glenbrook neighborhood.
Criminal defendants often seek refuge in God's house when the prosecutorial heat's turned up with years of liberty on the line. For Colucci, Skakel's private investigator, worship is an indelible influence on his work going back to his stress-driven days as a narcotics officer for the Stamford Police Department. Colucci places his hand on Skakel's shoulder and leads the three in prayer.
At the knee or at the defense table Colucci was a fixture at Skakel's murder trial in 2002, accompanying the defendant to court, tracking information about dubious witnesses and accumulating information for Skakel's lead attorney Mickey Sherman (whose ineffective assistance of counsel landed Skakel's freedom for a new trial). Government witness Greg Coleman's claim that Skakel confessed to bludgeoning teenager Martha Moxley to death in Greenwich in 1975 while they were students at a private school in Maine had both prosecutorial and defense teams working overtime to determine Coleman's legitimacy. Colucci contacted Rochester, New York police about Coleman's extensive drug history.
"Coleman's a hardcore drug addict who dies (before the trial) of a heroin overdose," says Colucci. "This is the government's credible witness?"
Coleman's dubious testimony, from a pre-trial hearing, was presented to the Skakel jury. As the trial neared closure, courtroom observers almost universally agreed the state's case against Skakel was thin, at the very least highly circumstantial, trying a man for a Greenwich murder committed decades earlier in his youth with no direct witnesses. Perhaps all the praying had paid off after all. Sometimes, though, the power of prayer can be voided by the sheer verbal muscle of a savvy prosecutor. State prosecutor Jonathan Benedict's blistering closing argument galvanized the jury.
"The tide was turning in favor of Skakel," Colucci says. "Benedict made a great closing argument. He stirred up the jury. He did what he had to do and won. But right from day one no one liked Michael Skakel. I think that carried over to the jury."
Skakel, convicted for the murder of 15-year-old Martha Moxley, received a 20-year sentence. He wrote regularly to Colucci in the months after, reiterating his innocence in letters from state prison in Suffield. Colucci is his ally. "I'm not easily fooled. Michael Skakel has cried here, he has prayed here," says Colucci referring to their meetings in his Stamford office. "I've dealt into the case and he did not do it. We have witnesses placing him at his cousin's house miles away from the crime scene. Greenwich police is one of the worst police departments in the country. They couldn't solve this case for years and years and all of a sudden when there's reward money they believe witnesses."
Despite Skakel losing his appeal, Colucci didn't give up. He was at the center of the action aiding Skakel and his attorney Hubert Santos that led to freedom and a new trial.
•
Vito Colucci knows all about being in a jam. Colucci investigated killers, drug dealers, mobsters and crooked cops as a member of the Stamford Police Department. A product of southern Italian immigrants, Vito Colucci Jr. was born in Stamford in 1948. He was raised in Stamford's working class west side and graduated from Rippowam High School where he spent a couple of years as a classmate of childhood friend Bobby Valentine, the legendary local athlete who played for and then managed the New York Mets. Colucci's father Vito Sr., a spry 96, worked as a barber and special officer for Stamford police. His mom, Sadie, a three-pack-a-day smoker, died in 1980.
Playing rock music in local clubs, Colucci's teenage dream was to rip guitar riffs in the mold of the British invasion bands. Marrying young, he became a father at age 20 and reasoned it was time to put food on the table. His father's special police uniform inspired him to join the Stamford Police Department a year later in 1969. "I remember being a little kid, looking at my dad's uniform. That meant something," he says.
It didn't take long for Colucci to get in on the action. In 1972, just a few years on the job, Colucci and his partner Joe Ligi were working the 6 p.m to 2 a.m. shift when notified that two Arizona prison escapees with local ties could be headed for Stamford. The suspects were spotted at the Showboat, a restaurant/hotel, in Greenwich.
"We were told to go to the Showboat, spot the rental car, sit on it until the FBI shows up," Colucci recalls. Colucci and Ligi identified the vehicle, called for backup and followed it through the serpentine back roads of Greenwich, across the state line in Rye, New York near Playland amusement park. The escapees veered off to the Cove East Tavern parking lot. The suspects eyed the police, jumped out of the car and drew weapons. Colucci and Ligi pulled their weapons. With guns blasting from both sides the suspects went down. When it was over one suspect was killed from multiple shots, the other wounded and taken into custody.
"I was nervous," Colucci recalls. "It happened so quickly. They were killers. They didn't care. They pulled and we pulled. I looked out the window of the car to see the streets mobbed with people. Then it hit me. That feeling (of taking a life) has never left me."
At age 24 Colucci was awarded the Combat Cross for bravery. Yet his police work would only intensify. The Stamford Police Department of 1973 was Prince of the City stuff where sometimes it was hard to tell the good guys from the bad guys. The differences can be achingly subtle. A bag of cash here, a turn there and a cop segues from hero to sneaky heroin dealer. Mob protection money flowed rampantly in the police department. And why not? Many of the cops went to school with the local hoods. What's wrong with supplemental income among friends?
In Stamford, some men in blue suffered from a corrupt flu spread by the local operations of the Gambino and Genovese Crime Families. But not all the cops were dirty. Some in fact were wired for courage.
Colucci, a young, ambitious narcotics investigator who worked under Lieutenant Larry Hogan was befuddled by the sheer number of drug raids on suspected power dealers that came up empty. Soon enough Arvil Chapman, a low-level dealer Colucci had collared, told him why.
"Your boss is dirty," Colucci remembers Chapman telling him as a way of sharing information for leniency. "He's running a drug business in town. I sit there with your boss. I'm in the same apartment when your boss Larry Hogan is cutting up the drugs for main people."
Colucci's informant advised that Hogan was the head of a drug enterprise and shakedown operation that included an underling sergeant Duke Morris. Colucci tried to keep his informant under wraps, but Hogan had his own snitches and it didn't take long before Hogan smelled a rat. In one whiff of a piece of cheese Hogan banished Colucci and his partner Joe Ligi back to uniform.
"All the good guys in uniform knew why we were put back in uniform," says Colucci.
Young Colucci, in conjunction with a local and federal investigation, went undercover, strapping on a wire to record mob associates tied to Hogan. Colucci uncovered a rat's nest of payoffs, shakedowns and schemes that linked his former boss to mobsters.
"One guy would say I run this card game and Hogan wants $400 or $500 per week to run my nightly card game," Colucci recalls of those days. "If they didn't pay, Hogan sent over uniform guys to break up the party. I met so many people who paid him money to work in this town."
Drug cases, gambling cases and murder cases were compromised under Hogan's tenure, according to Colucci. But Hogan was much more than a typical narcotics cop. He was the department's lead narcotics investigator and the first commander of the Fairfield County Narcotics Squad. Such cachet provided vast resources and intelligence. And soon enough Colucci's cover was blown, death threats followed and his mission, though fruitful, ended prematurely.
Frustrated by rogue cops in a wide-open town, the good guys in the Stamford department dropped their own dimes in the phone to The Advocate reporter Anthony Dolan who chronicled a Stamford Police Department roiling in kickbacks, protection money and gambling junkets financed by organized crime zealots. In the fall of 1976, Dolan shared his information with federal authorities who moved in earnest to power wash the department. Dolan's enterprising reporting won him the Pulitzer Prize and Stamford PD began the process, albeit slowly, of earning back the public's trust.
In 1977, after 22 years of service, Hogan was one of the Stamford cops who retired in the shadow of Dolan's screaming headlines and Colucci's undercover work. Hogan temporarily survived to build stronger, lasting relationships with organized crime.
The United States Department of Justice and Connecticut State Police both had Hogan under surveillance in the 1970s. Thanks, in part, to Colucci's work, Hogan was indicted, convicted and sentenced to five years on a heroin conspiracy charge in 1981. A federal appeals court voided the indictment in 1983 asserting that prosecutorial zeal prejudiced the grand jury process. Meanwhile Hogan's pal Duke Morris had been blown away in a gunfight with a drug dealer.
The feds and staties did not give up on Hogan. In 1984, fingered by a Stamford felon, Hogan was the central target of a State Police investigation into the murder of a Milford drug dealer and a federal grand jury probe of organized crime activities. The feds, in particular, thought they had Hogan nailed for good. But Hogan had issues beyond law enforcement. Cancer was eating away his internal organs, and some in law enforcement said Hogan had the good sense to die before facing murder and racketeering charges.
Hogan's death was no salve for Colucci. The residual stress from the Hogan case and lingering trauma from the shootout led Colucci to counseling.
"I couldn't handle it for a while. The flashbacks and taking of a life bothered me. I worked through it with the help of God. It's the stabilizing force in my life."
After 10 years as a cop with the emotional toll of death threats, Colucci reexamined his professional life. "With young children I said I don't need this aggravation anymore." He retired from the police force, played a little music and did some guitar teaching. Along the way he expanded his family, adding two stepchildren and a biological son from his second marriage to two daughters from his first marriage.
Then in 1987, he applied for his PI license and joined an agency headed by a retired FBI agent. After getting his feet wet he opened up his own firm in Stamford in 1990.
Colucci's law enforcement expertise and verbal spin as a client advocate has in recent years launched his face on national television. He's become a regular on a variety of national programs, on any given night offering analysis on Larry King, Nancy Grace, Fox News, CNN and Court TV, most of the bites conveniently filmed at the YES Network studios in Stamford. Exposure from the Michael Skakel investigation has cast him across a variety of programs providing independent insight into cases such as Michael Jackson and Scott Peterson.
The publicity has its rewards. "As soon as I come home the phone rings and a guy wants to pay me 10 grand to help him. But I'm not just give me the money and I'll let you know two weeks from now what I've got," he says. With eight investigators at his disposal, Colucci's $100 per hour fee is one quarter charged by top criminal defense attorneys in Fairfield County.
"The charm to Vito is when you need something you get it done well and promptly," says Gene Ricco, a Bridgeport attorney who specializes in criminal defense. That's a commodity difficult to find in the modern world." Riccio views Colucci from a unique perspective. Sometimes they're on the same side of a case, sometimes they're foes.
Michael Skakel, arguably Colucci's highest profile case, is representative of the way he embraces clients. "This was the biggest case in the country. People didn't like Michael's looks, his money and his Kennedy cousin connection. I got to know the Skakel that people didn't."