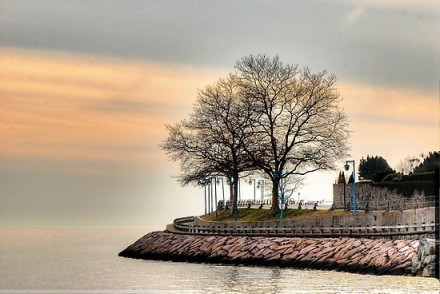 The Connecticut Office of Tourism has launched a contest to name your favorite place in the state (no, not your favorite place to neck) and wouldn't it surprise to create a Bridgeport buzz. Stamford, Hartford and New Haven are often highlighted in the state's tourism campaign, while little ol' state's largest city (okay, it's a bit of an oxymoron) gets the crumbs. Come on, let's show the rest of the state the city is so much more than the leader in election curiosities. We are after all the city of P.T. Barnum. Let's showcase the best of Bridgeport. Where else can you bite more delicious Portuguese rolls than Chaves or dogs from the Greeks. Merritt Canteen! you say. Okay baby, pile on those toppings.

Some favorite suggestions: The ballpark at Harbor Yard, the Webster Bank Arena, Captain's Cove Seaport, Discovery Museum, Connecticut's Beardsley Zoo, Beardsley Park, St. Mary's By The Sea, Seaside Park, golf courses at The Wheel, City Lights Gallery, Downtown Cabaret Theatre, Bijou Theatre, Klein Memorial, Housatonic Community College, University of Bridgeport, Joseph's Steak House, Ralph 'n' Rich's, Bare, Taco Loco. Place your vote. Add your suggestions. From the tourism campaign:
From the well-known cities of Stamford, Hartford and New Haven, to the beloved hidden gems of Old Saybrook, Litchfield, Putnam and many others, Connecticut is made up of still revolutionary towns that feature places of innovation, inspiration, community and more. This is your chance to boast–which is your favorite, and what makes it so? Is it an attraction? A place to stay? A delicious restaurant? A beautiful park? Share below.
Vote for your favorite Bridgeport place here.