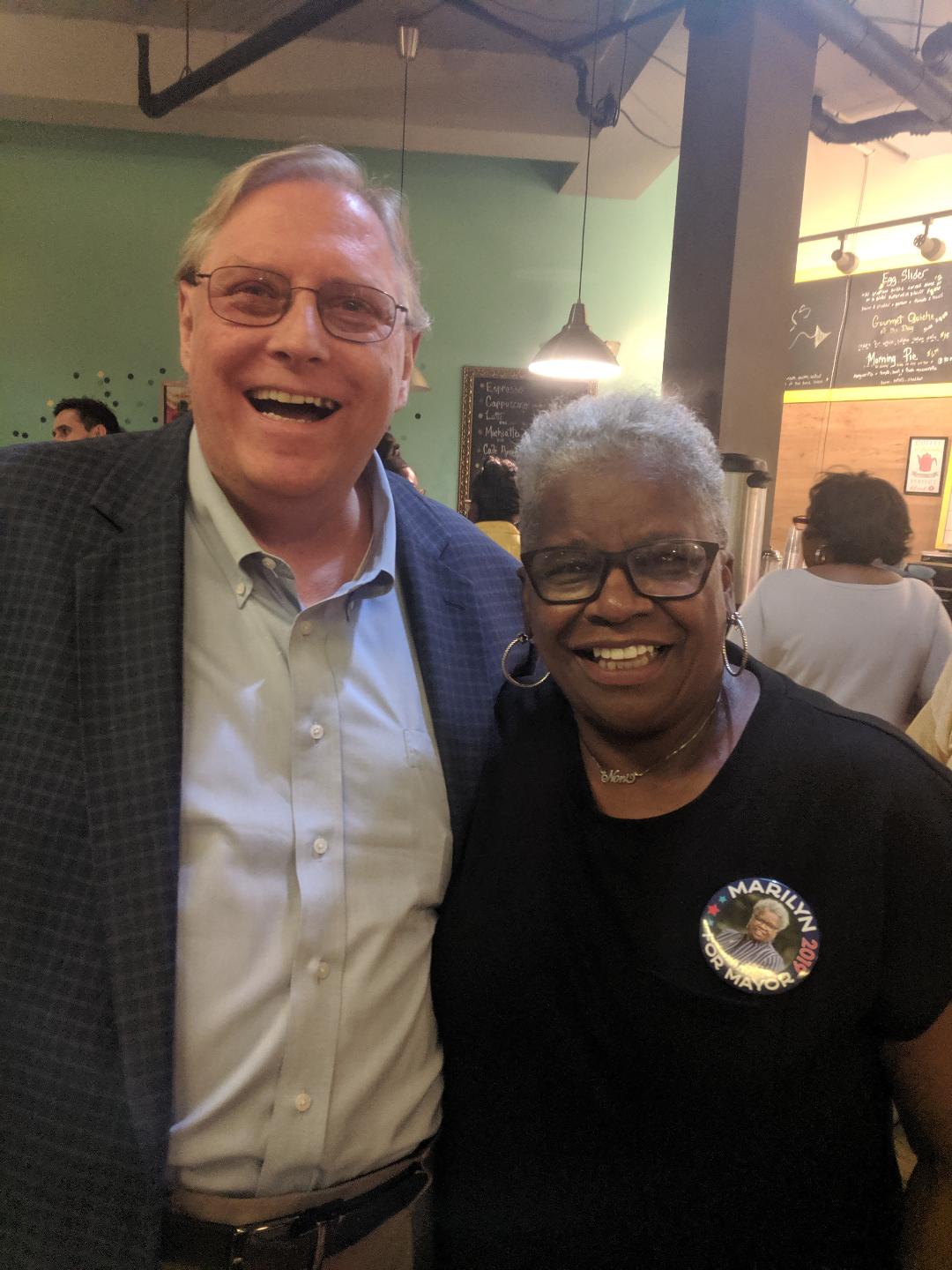 Former State Rep. and two-time mayoral candidate Chris Caruso is urging State Senator Marilyn Moore to "publicly denounce and distance her mayoral campaign" from the dark money independent expenditures supporters plan to spend on her candidacy.
Bridgeport Generation Now Votes leaders Gemeem Davis and Callie Heilmann have poised nearly $100,000 from its organization funds to support Moore's candidacy. The source of the money, however, was not disclosed on the recent campaign finance report that also raised additional questions about illegal coordination between Gen Now Votes and Moore's campaign.
Davis served as Moore's campaign manager for mayor in 2019. In addition, Moore attended a public endorsement rally last month hosted by Gen Now Votes with Davis and Heilmann front and center in which thousands of Gen Now Votes dollars were spent. Moore also wore Gen Now regalia in support of her candidacy.
Under Connecticut law it's illegal for an organization such as Gen Now Votes to coordinate expenditures with a candidate for public office it supports.
Caruso backed Moore for mayor in 2019 running on her losing ticket as the town clerk candidate.
This cycle Caruso has not endorsed a mayoral candidate.
A significant number of campaign operatives who supported Moore in 2019 have fled Moore for other candidates. On Tuesday Democrats will convene to endorse candidates for municipal office.
From Caruso:
As a friend and former running mate of Senator Moore, I encourage her to publicly denounce and distance her mayoral campaign from the independent campaign expenditure advanced by "Gen Now Votes" and executed by a Los Angeles based advocacy group especially in light of the fact that the name of the donor or donors of the expenditure have not be released, underscoring a lack of public transparency. Every voter has the right to know who is financially supporting a candidate.

Connecticut's election laws are clear and unambiguous that any independent campaign expenditures must be separated from and uncoordinated with a candidate's campaign committee. However, by some, such firewalls can easily be circumvented blurring the line and potentially violating the law. Already, Gen Now Vote's political activities in support of Senator Moore are in question as they relate to the independent expenditure.

I also call on Senator Moore to not allow under her name Gen Now Votes (through the independent campaign expenditure) to distribute 15,000 absentee ballot applications which place in question the integrity of the election process. The last mass distribution of absentee ballot applications was understandably during the COVID pandemic, but those were mailed by the Office of the Secretary of the State without allegiance or support to any candidate.

The adage, "if you can't beat them, join them," is a poor excuse to continue the escalation of absentee ballot use and potential abuse especially among elderly and disabled voters. Sadly, Bridgeport has had a long history of absentee ballot abuse with subsequent convictions of political operatives. Don't escalate the problem. A voter who legitimately needs an absentee ballot can get one, but those not eligible should be encouraged to go to the polls and vote in person. The so-called "banking" of absentee ballot votes prior to the polls opening is appalling. It retards the integrity and fairness of the electoral process and directly affects each and every Bridgeport candidate seeking elected office. IT MUST STOP!

Senator Moore has a solid record of advocacy and action on behalf of her constituents. I encourage her to avoid political engagement advanced by others that will sully her good record of accomplishments and undoubtedly be used against her by her opponents. The Senator has a good record to run on and as I know first-hand, thousands of voters who believe in her will cast their votes for her.