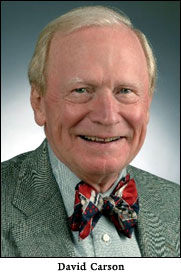 From Michael Daly, CT Post:
David E.A. Carson, former head of People's Savings Bank, now Peoples United, was one of four long-time supporters of public education honored Tuesday morning by The Bridgeport Public Education Fund, an organization he helped get off the ground in 1983. Carson, in brief remarks, spoke forcefully about the nature of public education. He emphasized that "public" means exactly that, and that all constituencies, most particularly the students, have to be included in the process. "No one constituency should own public education," he said. "And the public owns it when–sorry, Mayor–people elect their school board members."


The remark drew substantial applause in the ballroom of the Bridgeport Holiday Inn. The audience included Bridgeport Mayor Bill Finch, an advocate of a mayorally appointed school board. Just minutes earlier, in fact, the mayor had once again extolled the virtues of an appointed board to the roughly 300 people in attendance.

The other honorees were Geraldine Johnson, the city's first female and African American schools superintendent; Phyllis G. Marsilius, a BPEF founder and Elizabeth M. Pfriem, a philanthropist who has long supported education initiatives in the city.