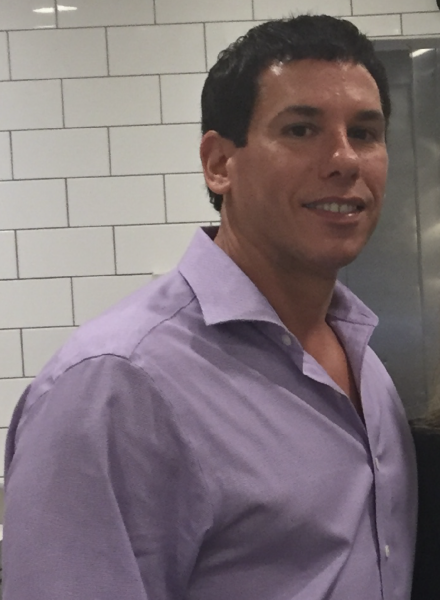 Let's eat. Jehu (Jay) Rodriguez knows all about that. He's continuing a good eats tradition that began in 1946 with original owner Lorraine Kohn on upper Main Street in the North End.
The roadside classic drive-in Merritt Canteen has morphed into one of the best-known culinary landmarks in Bridgeport, a city known for great, no-nonsense food. Kohn headed south to Florida to retire, and in 1983 sold the business to Jehu "Yawho" Rodriguez Sr. in 1983, who hired his son, Jehu when he was a teen growing up in the 'hood.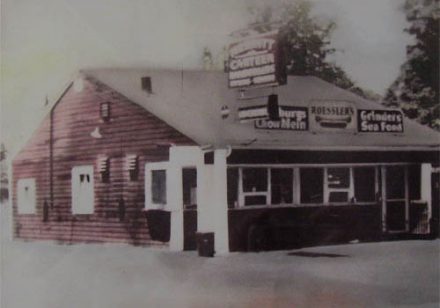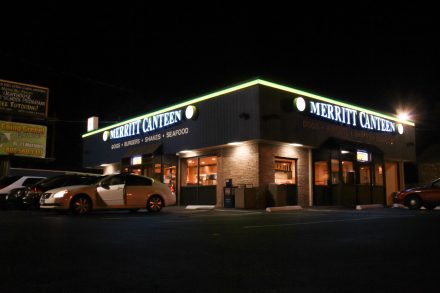 Jehu Jr. took over in 2000, and has overseen a staff as loyal as his clientele, who come back to Bridgeport from all over to savor the dogs, burgers, seafood and other tasty dishes the drive-in cranks out–even veggie burgers and other non-meat options.
Jay, who went to Sheridan School and Nathan Hale before graduating from Central in 1988, says he's "tried diligently to keep that old school atmosphere." He shares his thoughts on his hometown with OIB, part of our tribute to Bridgeport's Bicentennial.
Q. What is your first memory of Bridgeport?
A. I would say Beardsley Park. My father took us there every Sunday weather permitting. We just ran and played, ate and drank, went into the water. That was our special day together.
Q. What are your ties to Bpt., and what do you do, either work or volunteer work, that benefits the city and its residents?
A. I think that Bridgeport has become very diverse. Realizing that, we have been seeking to add things for different ethnicities. I've added the clam chowder and lobster rolls, added some items like veggie burgers, turkey burgers. Buffalo wings. Spicy options. People love it. Just last week we had two gentlemen from Texas stop by, they came back and stopped in. They told us they loved the place and come in whenever they're in town.
Q. What do you like best about Bridgeport?
A. What I like about Bridgeport is finally coming to fruition. I've heard about changes Bridgeport's going to make, such as revitalization of Downtown, getting some nice housing. That's a first step. I like the potential, though I've been discouraged by lack of action, but I do see things happening now. Steelpointe is finally taking off. If they can find a way to make it a mix between Mystic and Stamford, it would be a home run.
Q. Where is your favorite spot in the city to visit and why?
A. I love Seaside Park. They've done a tremendous job down there at the park, it's a beautiful park.
Q. What's your favorite Bridgeport eatery and what do you like there? Not a trick question!
A. I like A Vucchella Downtown. For Puerto Rican food Ramirez Restaurant is very good. El Coquito is also excellent. Brasa on Madison Avenue is also very good for Portuguese food.
Q. Where do you see the city going?
A. I actually gave up on Steelpointe when the casino was turned down over and over and over again, thought that was the saving grace. But now I think they're going in the right direction, and this is better than a casino. They have Boca (Oyster Bar), Bass Pro Shops. The comedy club, the more housing we can build Downtown the better it will be. That's the best bet for the future.
Q. If you had a magic wand and could make a miracle happen for the city, what would it be?
A. I'd like to see a waterfront Merritt Canteen at Steelpointe and a patio and a yacht I could pull up in to go to work. That would be sweet.