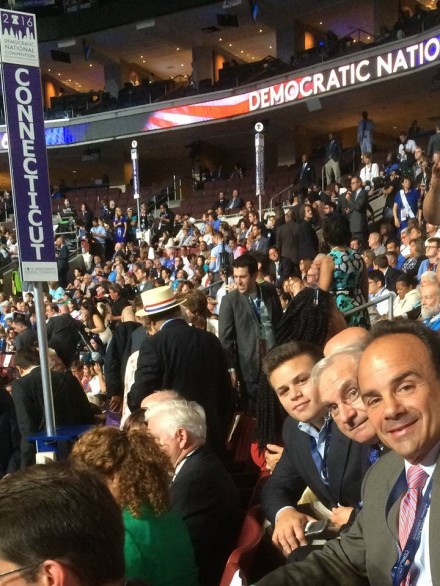 This is a big political year for Mayor Joe Ganim in more ways than one. He needs budget stability in his second full year back in office after a challenging first year fiscally. He also must show progress to political leaders around the state as he positions for a potential statewide run in 2018. That process has already begun informally, according to a number of political operatives around the state who say Ganim is putting out feelers.

Ganim likely would have been the Democratic candidate for governor in 2002 if not derailed by the federal corruption probe that toppled his administration. He made a remarkable comeback for public office in 2015 riding a second-chance message that shocked political leaders around the state some of whom have embraced his mayoralty. But Ganim must earn his stripes as a ticket asset for Democratic operatives.
What's a potential opportunity for Ganim, in lieu of a far-fetched run for governor? Possibly lieutenant governor? Would he settle for that?
At age 34, in 1994, an ambitious Ganim was the Democratic candidate for lieutenant governor as the running mate of Bill Curry who lost a tight general election to Republican John Rowland. Ganim was a candidate for governor, dropped out to support party-endorsed John Larson who lost the Democratic primary to Curry.
In the mid and late 1990s, Ganim continued to build prestige as a statewide political figure schmoozing party regulars.
A lot of what happens in the next year depends on the future of Governor Dan Malloy. Will he seek reelection? That decision will probably not come until after the legislative session in June. If Malloy opts out, it changes the campaign landscape. State Comptroller Kevin Lembo, although not officially in the race for governor, is acting like a candidate challenging Malloy budget numbers and framing a government transparency message. Would he wage a primary against Malloy?
Meanwhile, the Republican field for governor is shaping up with Danbury Mayor Mark Boughton and Trumbull First Selectman Tim Herbst among those raising money.
Ganim, as well, wants to focus on the local Bridgeport budget process, working contacts in the state legislature and building alliances around the state. So much of this depends on timing and progress.
Will Ganim hold the line on taxes? Will the Steel Point redevelopment area go vertical this summer? Will Downtown North progress continue? How about the city crime rate, which can often be outside a mayor's control?
And then there's the question of raising money through Connecticut's Citizens Election Program of publicly funded races. It's a labor intensive process new to Ganim who showed strong fundraising skills in past races for mayor and statewide office when public financing were not options.
If Ganim decides to run statewide he'll likely start with an exploratory committee that would allow him to fold the money raised into a full-blown campaign committee. And, if that happens, right by his side will be Bridgeport Democratic Town Chair Mario Testa who was instrumental in helping raise Ganim's statewide profile in the 1990s.