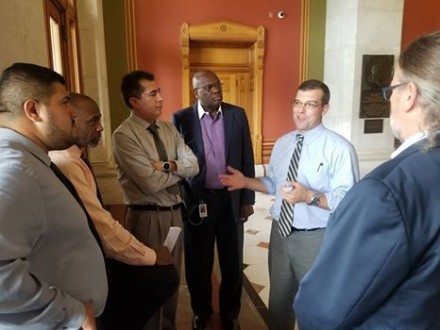 In an excruciatingly tight–and tardy–state budget season with municipalities across the state facing major cuts, the financially hemorrhaging city of Hartford is poised for a major bailout with oversight strings attached to overt bankruptcy as well as $115 in capital funding over two years for the XL Center. Mayor Joe Ganim and the city's legislative delegation are weighing in, what about the state's largest city? It's one of the machinations impacting passage of a budget in a state operating without one for more than two months.

Almost every municipality will be forced to take a bite out of a shit sandwich of a budget except Hartford. Members of Bridgeport's delegation say if that's the case make it more tolerable because the city stands to lose more money than what was originally presented in the spending plan submitted by Governor Dan Malloy early this year.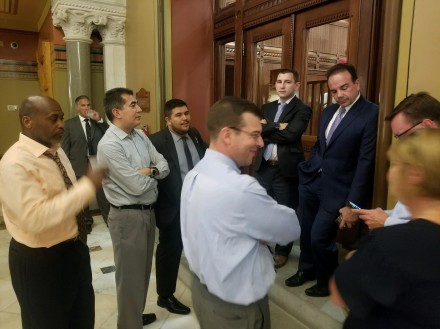 Budget talks broke down around midnight last night in an effort to pass a budget. Democrats hold a slim majority in the House. The Senate is 18-18 with Democratic Lieutenant Governor Nancy Wyman poised to break a tie on the budget, if necessary. Any partisan defections could doom the budget. The mayor and legislative delegation are trying to leverage something better in view of the state rescuing the capital city. The city's delegation alone is not blowing up the state budget, but it's part of the serpentine variables of maneuvering a budget to passage.
With votes currently lacking in the House it appears budget negotiations have shifted to the Senate where Bridgeport's two state senators Marilyn Moore and Ed Gomes will try to carry the city's negotiating load well into the night and possibly early morning.
The Hartford Courant reports the budget bill includes "funds to support Hartford — between $40 million and $45 million, according to sources — in order to prevent the state's capital city from seeking bankruptcy. The funds would come with strings attached, including the state seeking some type of oversight of Hartford's finances."
Back in 1988 a fiscally bleeding Bridgeport sought state support to close years of red ink. In lieu of additional direct state aid, the state allowed the city to leverage its bonding powers to borrow $55 million to pay off debt and create a reserve. In exchange the state enacted tough medicine, an oversight board to make sure the city's budgets were in balance. The Bridgeport Financial Review Board dissolved in the summer of 1995.
The Hartford rescue mission, however, appears to involve direct state aid with the strings of an oversight board.
Bridgeport elected officials say it's fine that Hartford must be rescued but don't screw the state's largest city in the process.