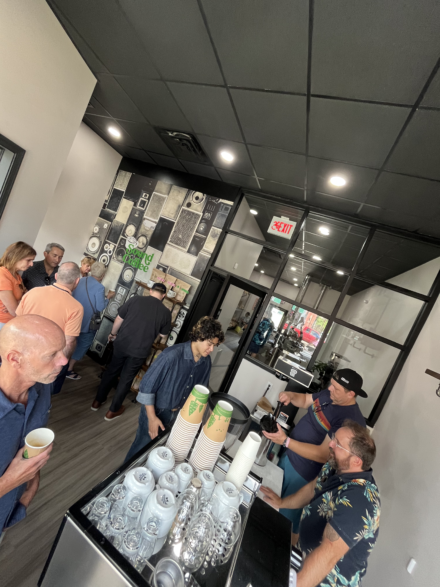 News release:
Sound Coffee, Bridgeport's premier local coffee roasting company, focused on sustainably-harvested single origin roasts and artisanally-crafted blends, will debut its two newest beans at a Coffee Tasting Event from 9 AM to 2 PM, Saturday, November 11, 2023, at their location at 2040 Main Street, Bridgeport, CT.

Available for tasting during the event will be East Java, a medium/dark roast naturally-processed coffee with vibrant flavors, and Kenya AA, a light roast grown in the rich soils of Muranga, with meticulous care taken in its cultivation and processing, which produces a bright and velvety cup.

East Java is grown by the Tlogosari Village, the locals there have established a social non-profit cooperative, known as "Walida Cooperative," to enhance the well-being of the community. The cooperative, led by Ahmad Muhlisin in partnership with Belift Green Beans, is responsible for growing coffee beans. When coffee is sold, 20% of the profits are allocated to the social non-profit cooperative. The cooperative runs a K-12 school that offers education to the villagers. A small percentage of the profits is given to the government to allow the villagers to grow coffee in that area.

Kenya AA is produced by the Gatagua Factory, which is run by Gatagua Farmers Cooperative Society (FCS). Gatagua means "gathering" in Kikuyu, a local Bantu language. The cooperative was formed by 3 cooperatives that split off from another cooperative and "gathered" together to form a new cooperative society. Gatagua provides training to farmers in improved pruning, cultivation and harvesting methods.

In addition to sampling the newest roasts, customers will have the opportunity to purchase (while supplies last) pastries from up-and-coming bakery, Moon Smoke Bakery (moonsmokebakery.com) of Fairfield, CT, and enter a raffle to win a Sound Coffee t-shirt and mug. Roaster and owner, Jeff Roy, will also be on hand to answer questions and share the new roasts' origin stories.

"Coffee is the second most consumed beverage globally," said Roy. "From afternoon iced lattes to evening espresso martinis, coffee culture has exploded in recent years, with a keen interest in quality, sustainability, and taste. Our mission is to provide our fellow coffee lovers with delicious fresh-roasted coffee produced with care and love for the product, for our planet, and for the farmers and communities who grow it for us."

East Java and Kenya AA will also be available for purchase by the bag during the event. For more information about Sound Coffee's roasts and products, visit soundcoffees.com.

ABOUT SOUND COFFEE

Roasting Coffee. Brewing Harmony.

Like a good song, our coffee resonates with the human spirit. Sound Coffee Company freshly roasts thoughtfully selected beans from across the world. We offer a select playlist of single origins and distinguished blends, roasted in small batches.

Located on Long Island Sound, we apply environmentally sustainable practices at every level. Being locally-focused and independent empowers us to foster mutually beneficial relationships with other local businesses and connect with our community in creative and enriching ways.

Our coffees are currently available for purchase in-store at 2040 Main Street, Bridgeport, CT, online, and at select markets and restaurants in Connecticut. For more information, visit SoundCoffees.com, or follow @SoundCoffeeCompany on Instagram and Facebook.