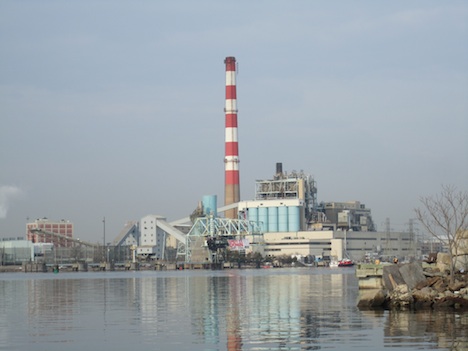 When will the candy stripe come down? News release from PSEG:
PSEG Power has retired its Bridgeport Harbor Station Unit 3 power plant, effective May 31, marking the completion of the company's long-term coal exit strategy as the company pursues a path to net-zero carbon emissions. BHS 3 was the last remaining coal-fired power plant in PSEG Power's generation fleet.

Originally designed to be fueled with either oil or coal when placed in service in 1968, Unit 3 was converted to a full-time coal unit in 2002. BHS 3 provided 400-megawatts of peaking capacity to southern Connecticut, operating only when called upon during times of peak energy demand, such as extreme heat or extreme cold. In conjunction with the opening of Bridgeport Harbor Station Unit 5 (BHS 5), a highly efficient 485-megawatt natural gas power plant, in June 2019, Unit 3 was scheduled for retirement in mid-2021.

"The retirement of Bridgeport Harbor Station Unit 3 marks the end of an era for the City of Bridgeport and the citizens who relied on its power," PSEG Chairman, President and CEO Ralph Izzo said. "I'm grateful to the generations of employees who operated this unit safely and reliably for more than 50 years, and to the entire Bridgeport community for their support."

"For PSEG, the retirement of BHS 3 marks the end of our company's coal era, reflecting a nationwide trend toward the use of cleaner fuels to generate the electricity we need to power our lives. Newer, more economic and highly efficient power plants like BHS 5 will play a critical role in shrinking our carbon footprint as we address the challenges of climate change and help set Connecticut on a path toward its cleaner energy future," Izzo said.

BHS 3 did not ease quietly into retirement. After being called upon to operate for just two days in 2020, and not at all in 2019, the unit ran for nearly two uninterrupted months to supply additional power to the grid during a stretch of unusually cold weather in January and February of 2021.

"That remarkable run, even as the unit was just weeks from retiring permanently, reflects the readiness and determination of the entire Bridgeport Harbor 3 team, with support from BHS 5, New Haven and the entire PSEG Fossil organization," Izzo said. "The team should be proud of its performance during this stretch, during which it maintained all safety and environmental standards without a single forced outage, injury or COVID 19-related issue."

BHS 3 also was instrumental in providing electrical generating capability for the Bridgeport region during Superstorm Sandy in 2012 and during the prolonged and extreme cold weather during the polar vortex in the winter of 2014.

Bridgeport Harbor Station was originally owned and operated by United Illuminating Co. and began providing energy to the industrial factories and businesses in southwestern Connecticut in 1957. In 1999, Bridgeport Harbor Station was purchased by WISVEST, which owned and operated the station until it was purchased by PSEG Power Connecticut in 2002.

As the nation transitions to new generation technologies, the long and important history of BHS 3 illustrates how critical coal generation has been over the decades in powering lives and fueling the economy.

In addition to its exit from coal, PSEG Power's remaining fossil generation units–including BHS 5–are part of the company's ongoing Strategic Alternatives process to explore divestiture options for PSEG Power's fossil and Solar Source assets. The company expects this process to be completed by the end of 2021. Following this process, PSEG Power's fleet will consist almost entirely of carbon-free energy, including nuclear plants in New Jersey and Pennsylvania and new investments in offshore wind generation.