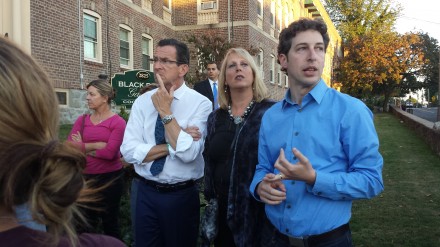 State Rep. Auden Grogins' advocacy for construction of a pedestrian bridge across Ash Creek in Black Rock to access the Fairfield Metro train station in close proximity to the neighborhood has moved a step closer. Monday night approval of a grant application to the State of Connecticut Department of Transportation Capitol Improvement Program will be referred to the City Council's Public Safety and Transportation Committee.

Grogins says the total bridge construction cost is roughly $2.5 million. Grogins has lobbied state officials to support construction of the bridge across the Ash Creek Estuary that divides Black Rock from the Town of Fairfield where the Metro station is located.
In September, Governor Dan Malloy visited the proposed location for the bridge after Grogins invited him for an evening walking tour of the neighborhood for input on $500,000 in state funds supported by Malloy that will brighten the streetscape and facades of the busy business district.
Also on Monday night's City Council agenda: Miscellaneous Matters Committee Report re: Appointment of Maria Alves (D) to the Zoning Board of Appeals Commission and Communication from City Attorney re: Proposed Discussion, Review and Approval as Appropriate of Various Statutorily Authorized Proposals and Applications concerning Real Property Taxation, referred to Budget and Appropriations Committee.
Full agenda here.