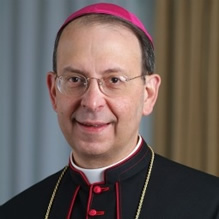 Bishop William Lori, who inherited a decades-long sex abuse scandal in the Diocese of Bridgeport largely covered up by his predecessor Edward Egan, has been named by Pope Benedict XVI the 16th Archbishop of Baltimore, according to the Diocese of Bridgeport website.

Lori, 62, also came under fire in recent months for the closing of several institutional parishes including Holy Rosary on East Washington Avenue.
Diocese of Bridgeport announcement.