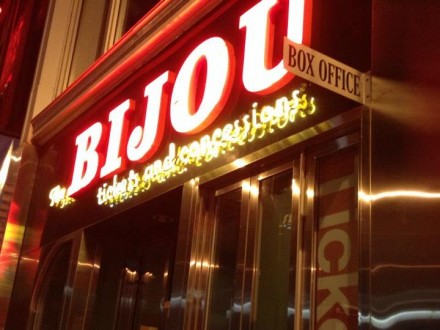 Bridgeport's Downtown gem, the Bijou Theatre, a key component of a mixed-use redevelopment on Fairfield Avenue, will close its doors in a week, according to Christine Brown, who managed operations there for five years. A disappointed Brown says try as she may, rental and utility costs could not make the entertainment venue sustainable.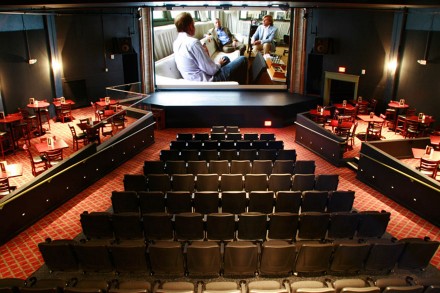 "All of us at the Bijou have given our heart and soul to this project and we are all devastated," says Brown. "We love Bridgeport and we love the Bijou. We have had the unique privilege of showcasing extraordinary talent on our stage, and sharing this historic and beautiful venue with tens of thousands of people. Our sincere thanks and respect goes out to everyone who has supported the Bijou in any way."
The Bijou has been the scene of live music, comedy, films, community events, concerts, fundraisers and theatrical productions for five years. Developer Phil Kuchma cleaned up a couple of city blocks on both sides of Fairfield Avenue in his Bijou Square redevelopment. Included was the renovation of one of the oldest movie halls in the country into a cool 200-seat venue with a full bar and food options. Brown says she could not come to terms with landlord Kuchma on keeping the place alive. Brown, an attorney who works at Fairfield University, found herself supplementing the continuation of the venue with her personal finances.
Two Boots restaurant, an inaugural eatery of the development, shut its doors in March. A restaurant replacement is expected to open its doors within a few weeks. Can Tiin, featuring Vietnamese-French plates and Italian restaurant Trattoria 'A Vuchella are two existing restaurants on both sides of the Fairfield Avenue development. Kuchma also owns the building housing the popular Downtown Cabaret Theatre, a block away at the top of the Broad Street steps.
While Kuchma has had success filling the trendy housing units of the development, it has been a challenge keeping alive the restaurant and entertainment destinations. He says although disappointed he will search for an operator for the venue with a similar use.
"Bridgeport is still proving itself to a lot of people," says Kuchma. "There's successes, Downtown Cabaret celebrating 40 years, but also some casualties. It's not always their fault. It's a shame. Life goes on. When we lose a tenant we've been fortunate being able to find a replacement. There will be no change in use. We'll never let it stop being a movie house."
Brown says she did not have the local and state funding sources that can keep alive traditional non-profit entertainment destinations. Brown says the Bijou will close on August 7 following the final showing of the musical Bring It On.
Statement from Bijou Board of Directors:
"The management and Board of Directors of The Bijou Theatre have made the difficult decision to close the doors. We are all proud of what we have accomplished since opening 5 years ago. But while The Bijou has grown artistically over the years, expenses are prohibitive and the funding streams have not been sufficient to support the theatre's continued operation."