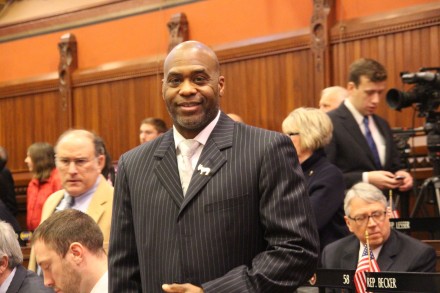 Elected with a trifecta of insurgents that knocked off three Democratic endorsed candidates in a 2013 primary, State Rep. Andre Baker on Monday resigned from the Board of Education citing demands of parenting, his legislative seat and funeral director profession.

"It's time to focus being a state rep, fatherhood and funeral business," Baker wrote in a text message to OIB.
Baker was elected to the board with Democrats Dave Hennessey and Howard Gardner. Hennessey, early this year, switched his affiliation to Republican and then resigned. Citing the Bridgeport City Charter and state statute, Mayor Joe Ganim named Republican Annette Segarra to replace Hennessey after the school board could not agree on a replacement in 30 days. The City Charter states that the remaining active school board members will fill a vacancy within the same party affiliation as the resignation, but does not specify a time to fill it. Opponents to Segarra's appointment are planning a court challenge arguing that since Hennessey was elected as a Democrat his replacement must be from the same affiliation as well as asserting the charter does not specify a time frame for replacement. Ganim cited state law to fill the appointment.
Meanwhile the school board will go about the business of trying to find a replacement for Baker from the Democratic Party.