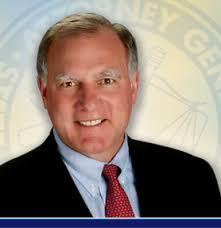 From Daniela Altimari, Hartford Courant:
George Jepsen, Connecticut's low-key attorney general, is emerging as a leading player in the burgeoning, blue state resistance to the Trump agenda.

The two-term Democrat who seldom tweets or holds press conferences is quietly preparing to lead a legal assault on President Trump's efforts to roll back Obama-era policies. Jepsen has already signaled that he will be watching closely to ensure that the new administration in Washington acts in accordance with the constitution.

"As a matter of prediction … I think it's more likely than not that we'll be in court on a regular basis on everything from the Affordable Care Act to global warming to other [environmental] issues to … access to health care for women, consumer protection, gun safety, civil rights for women, for minorities, for immigrants, and LGBTQ issues," Jepsen said during an interview in his office. "It's going to be a very different world for me."
Full story here.